Malcolm Butler denies he was benched from Super Bowl over weed, women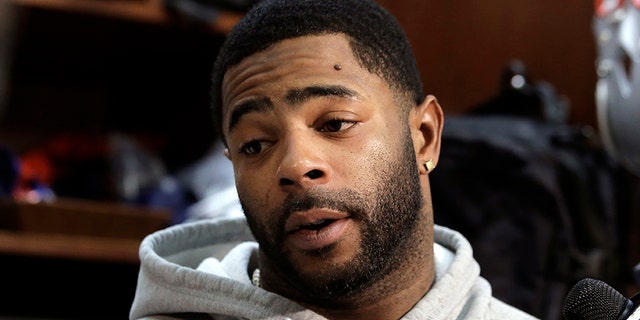 Malcolm Butler — the New England Patriots cornerback who was benched during Sunday's Super Bowl game — took to social media Tuesday to refute allegations he was sidelined because of misconduct off the field.
"During my four year career with Patriots I have always given it everything I have to play at a high level, and would never do anything to hurt my teams' chances of winning a game," Butler stated, adding: "Including this year's Super Bowl where I visited with my family every night."
"During Super Bowl week I never attended any concert, missed curfew, or participated any of the ridiculous activities being reported," Butler said.
PATRIOTS' SUPER BOWL HERO MALCOLM BUTLER BENCHED DUE TO WEED AND WOMEN, FORMER TEAMMATE SAYS
Butler's former Patriots teammate, Brandon Browner, seemingly tried to defend Butler in an Instagram post on Sunday, writing that the cornerback wasn't "the first to get caught with weed. … Curfew also meant we are not allowed to have guest especially women."
"They are not only false," Butler said of the allegations, "but hurtful, to me and my family."
Butler was benched because of a sickness he was battling, a tough week of practice leading up to the big game and a minor team violation, according to NFL.com.
Patriots head coach Bill Belichick defended his decision to reporters after the game, but later acknowledged it was a more complicated issue.
Former and current Patriots players, "liked" Butler's post on Instagram, and quarterback Tom Brady commented: "Love you Malcolm. You are an incredible player and teammate and friend. Always!!!!!!"
Butler — who reportedly said after Sunday's big game that the Patriots "gave up" on him, followed by "f--k" — apologized in his post for those offended by his language as it was "a very emotional time." He also noted it was "out of character" for him.
Butler became a staple in the Patriots' secondary after he made the game-ending interception against the Seattle Seahawks in Super Bowl XLIX. Since then, he's played in every regular season game for the Patriots, recording eight interceptions and 190 tackles.
"I can't wait for the 2018 season to get here," Butler, who is an unrestricted free agent this offseason, said. "I will be ready!"
Fox News' Ryan Gaydos and The Associated Press contributed to this report.