Madison Bumgarner makes history in Giants' loss to the Dodgers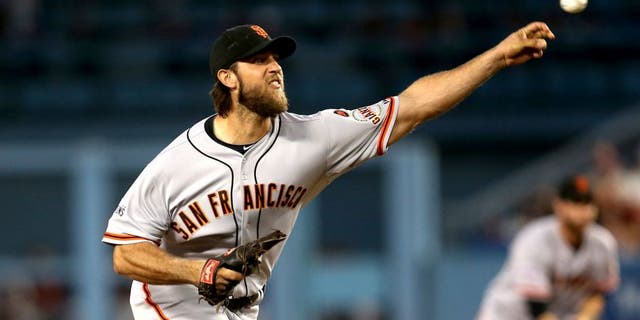 NEWYou can now listen to Fox News articles!
Madison Bumgarner picked up his seventh loss of the season in the Giants' second-consecutive defeat at the hands of the Dodgers in Los Angeles on Tuesday, but he still managed to achieve a rare feat on the day.
In notching his eighth and final strikeout of the night, his 200th of the season, Bumgarner became the first left-handed pitcher in the live-ball era to hit five home runs and tally 200 strikeouts in the same season, according to the San Jose Mercury News.
The Mercury News notes that the most recent pitcher to achieve the feat was Carlos Zambrano in 2006, who joined the rare air occupied by Bob Gibson (1972), Fergie Jenkins (1971), Earl Wilson (1966), and Don Drysdale (1965) in accomplishing the deed.
Nonetheless, the feat didn't come on a celebratory day for the Giants.
Bumgarner not only picked up his first loss in six starts, snapping his five-game winning streak, but San Francisco also dropped to 5 ½ games back in the NL West with their loss to the division-leading Dodgers.