Madison Bumgarner addresses dirt bike wreck and timetable for his return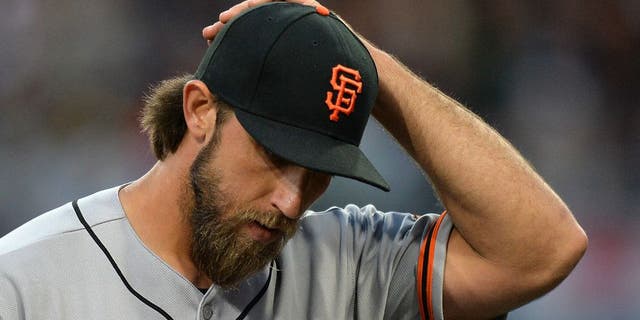 NEWYou can now listen to Fox News articles!
Madison Bumgarner spoke with reporters Monday for the first time since injuring his pitching shoulder and ribs in a dirt bike accident last week. And he was quite apologetic.
The ace lefty said the excursion last week in Denver last Thursday was "definitely not the most responsible decision I've made. From MLB.com:
"I think it's pretty clear I don't want to be in this situation," said Bumgarner, whose throwing arm remained in a sling for immobilization. "I don't want to put [teammates] in this situation. This organization, the fans, the city. … It's terrible. Obviously that was not my intentions when I set out to enjoy the off-day."
The slow-starting Giants they are just 7-13 and in last place in the NL West will be without their ace indefinitely. A follow-up MRI is planned to determine the severity of his shoulder sprain, though Bumgarner said he expects to pitch again this season: "It's hard to put a timetable on it, but I would certainly be disappointed if I wasn't [able to perform in 2017]."
In four starts this season, Bumgarner is 0-3, but has a 3.00 ERA, 1.07 WHIP, a complete game and 28 strikeouts in 27 innings.
To his credit, Bumgarner said he never considered lying about how the injury occurred:
"That's just not who I am," Bumgarner said, via MLB.com. "If you're going to do stuff like that, you've got to be honest about it. Obviously that doesn't make the fact of the matter any better, but that's just not who I am. I didn't see any reason to try to lie about it."
For now, the waiting game continues for Bumgarner, the Giants and the teams fans.