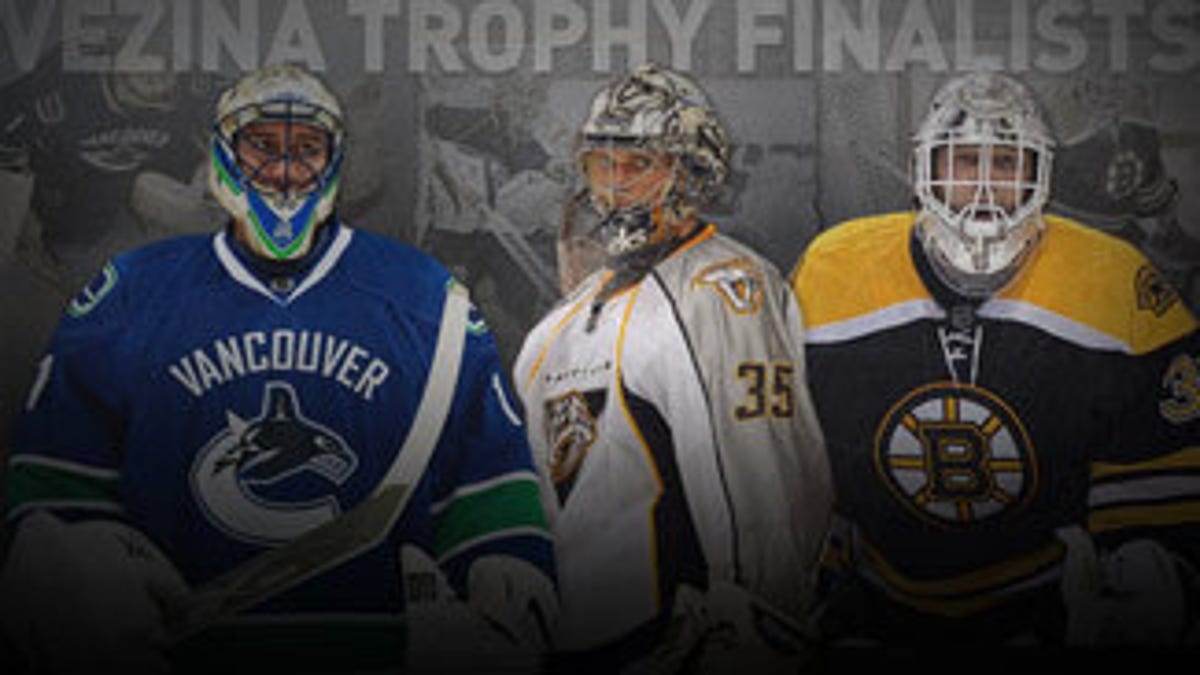 When it came to stopping the puck this season, Roberto Luongo, Pekka Rinne and Tim Thomas were in a class of their own.
Friday's announcement of their nominations for this year's Vezina Trophy -- awarded annually "to the goalkeeper adjudged to be the best at his position" -- comes, then, as little surprise.
Luongo of the Vancouver Canucks, Rinne from the Nashville Predators and Thomas of the Boston Bruins were the top-three finishers in goals-against average, in the top four in save percentage, and each led his team to a berth in the Stanley Cup Playoffs.
Thomas, of course, is familiar with this award, having won it just two seasons ago. As unlikely a candidate as he made in 2009, when he was nominated as a 35-year-old playing in just his third full season in the NHL, he may have topped that this season after rebounding from a disappointing campaign in which he posted a sub-.500 record and lost the starting job heading into the playoffs to rookie Tuukka Rask.
In his first start of 2010-11, Thomas shut out the Coyotes in Prague. It set the tone for the rest of his season. He went on to lead the League with a 2.00 GAA and his .938 save percentage wasn't just first among goaltenders this season, it set a new record, breaking the old mark by Dominik Hasek of the Sabres by one-hundredth of a percentage point. Thomas finished in the top 10 with 35 wins, despite only playing 57 games, and lost just 11 times in regulation all season.
Like Thomas, having a reliable backup meant the Canucks didn't need to overwork Luongo this season. They were able to limit him to 60 games, but he still tied for the League lead with 38 wins as Vancouver won the Presidents' Trophy and set franchise records in both victories and points. It's hard to imagine that being possible without Luongo's steady play, as the 32-year-old reached new heights in terms of consistency.
Luongo posted a 2.11 GAA that was second only to Thomas and was a career best by a significant margin over the 2.29 he posted in 2006-07, his first season in British Columbia following a trade from Florida. His .928 save percentage was fourth in the League, well up from the .913 he posted a season earlier, and paled only in comparison to the .931 he had in 2003-04 for the Panthers.
It's been a rapid rise to the top of the NHL's goaltending elite for Rinne, taken in the eighth round with the 258th pick in the 2004 Entry Draft. Completing his third full season in the Music City, Rinne's 33-22-9 record hardly did justice to his performance this season. In fact, on a team that finished 21st in offense and didn't have a skater with more than 50 points, there were Predators who suggested he deserved consideration for the Hart Trophy, awarded to the League's MVP.
Rinne started 64 games and finished with a 2.12 GAA that was third behind Thomas and Luongo, and a .930 save percentage that was second only to the record-setting mark established by Thomas. Rinne's backup, Anders Lindback, was a rookie, and unlike the Canucks and Bruins, the Predators were fighting for a playoff spot in an ultra-competitive Western Conference until the final days of the regular season, leading to Rinne starting 29 of the team's final 30 games.
The Vezina Trophy will be awarded at the 2011 NHL Awards in Las Vegas on June 22.