Luke Rockhold and Chris Weidman get into heated war of words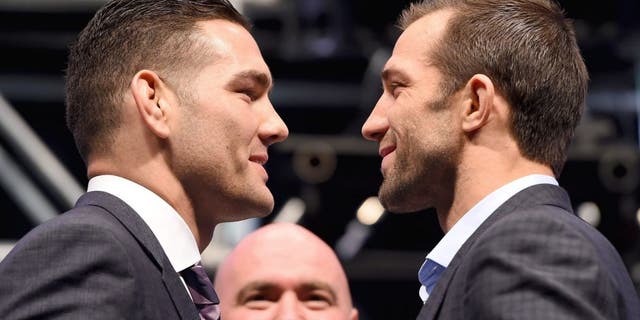 It's not always a great idea to seat two rivals next to each other for an interview but that's exactly what happened with Luke Rockhold and Chris Weidman on Wednesday.
The two top middleweights are scheduled to meet at UFC 199 in June, but ahead of their fight they sat down with "SportsCenter" for a chat about the upcoming matchup.
Rockhold and Weidman seemed cordial enough at the onset as they explained why their first fight ended the way it did at UFC 194, but it didn't take long for the gloves to come off and the verbal sparring began.
Rockhold fired the first shot as he knocked Weidman's dedication to the sport thanks in large part to his devotion to putting family first rather than winning championships.
"You're not capable of getting it back," Rockhold said to Weidman. "I've dedicated my life to this sport and you've dedicated your life to a family. You can't push as hard, you can't do what I do."
Weidman fired back at the notion that he can't be a dedicated family man and still be one of the best fighters in the world.
"I dedicated myself to my family so that means I can't be good at a sport?" Weidman said. "So do you have any outside pleasures that you enjoy? You're bringing up family. Family actually helps me a lot."
It turns out the uncomfortable situation between Rockhold and Weidman wasn't actually a choice, as both fighters admitted that they didn't ask to be put next to each other for the interview. But that's what was requested.
"I don't know if we had a choice," Weidman said. "Maybe the champ had a choice."
In the end, Rockhold closed things by making his prediction for the rematch, which he believes will end with his hand raised once again while dispatching Weidman in even more dominant fashion than he did the last time.
"I don't see how it plays out any differently," Rockhold said. "I controlled every aspect of the fight. The problem with Chris is he has no vision, he's too tense, he's too tight. He can't let it go.
"I love fighting, I'm comfortable in there. I see things and I'll adjust to it. There's not one area in this fight I'm going to lose."