Luke Donald back to his old swing coach, and hopes to be on way back after sliding from No. 1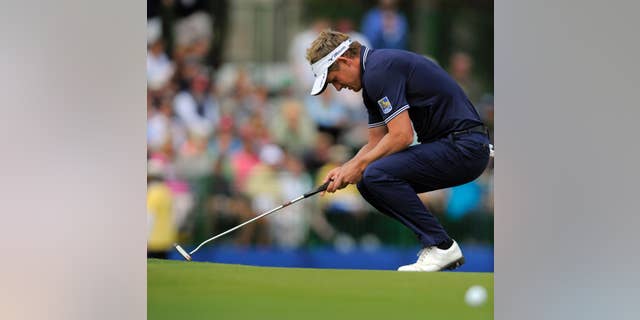 HONOLULU – Some of the biggest stars in Europe are starting their year in Abu Dhabi on Thursday.
Luke Donald is in Honolulu. That's by design.
This year is about getting back to his strengths, and getting back to his roots. Donald could pick off a few European Tour requirements, but he tends to play well during the West Coast Swing on the PGA Tour, and that's where he will start.
And thus begins what he hopes will be the road back at the Sony Open.
Donald was No. 1 in world in early August 2012 before Rory McIlroy took over, Tiger Woods returned to the top, and then McIlroy surged again last year with back-to-back majors. Donald began to slide. In a quest to shore up his play in the majors, he switched to a new swing coach before realizing in the middle of last year it wasn't going to work.
It cost him dearly. Not only did he slip out of the top 30, Donald was passed over for the Ryder Cup team.
"Actually had dinner with Justin Rose the night before he left for the Ryder Cup, which was fine. It wasn't awkward," Donald said of a family trip to the Bahamas. "You don't play well enough and you can't expect to get picked. I wasn't playing very well."
He returned home from The Bahamas (where Rose lives) in time to watch the final day at Gleneagles. He saw great golf and missed being part of it.
"I certainly wanted to be there," Donald said.
That was the idea behind going back to Pat Goss, his coach at Northwestern. Donald had sought out Chuck Cook, and while he liked what they were doing, he didn't feel that "my golfing DNA" allowed him to make all the changes.
"I think I spent so much time and effort trying to implement what he wanted me to do that I got a little bit away from some of my strengths," Donald said. "I was concentrating on improving my weaknesses and forgetting a little bit about my strengths. For me, consistency is being able to scramble for par when I need to and grind out a round when I'm not at my best.
"I think because I was spending so much effort on the full swing, I wasn't working as hard on the short game."
Donald is part of the first full-event event of the year on the PGA Tour, which includes defending champion Jimmy Walker, Jason Day and Matt Kuchar among the 24 players who were at the winners-only Tournament of Champions last week. Kapalua winner Patrick Reed stayed on Maui for vacation.
Donald was a runner-up at Waialae in 2007, finishing one shot behind Paul Goydos. He has not been back since 2010.
"The last few years I've been doing the Middle East thing, and it's a tough decision whether to go there and try and knock off some events as a European Tour member," he said. "This year I think overall looking at my results, I played a little bit better on the West Coast than I have in the Middle East, so that was another determining factor for coming back here to an event that I have had some success in the past."
For Walker, he needs to work on his timing.
Being the defending champion is supposed to be a time to reflect and celebrate success. Walker won his first PGA Tour event at the Frys.com Open, and he returned to defend coming off the U.S. Ryder Cup loss.
The Sony Open was his second victory, and he starts his defense just three days after he lost a chance to win at Kapalua. Walker had a three-shot lead with five holes to play when he made bogey with an iron off the tee at No. 14, and then failed to make birdie the rest of the way, including two par 5s. He lost in a playoff to Reed.
"It's still there," he said of the disappointment. "But it's just part of being a golfer. I woke up about 12:30 on Tuesday morning and was up for a couple hours kind of stewing over it, and then finally went back to sleep. And I've been good since."
It was never all that bad.
Walker was never sure what to expect coming off a month break, and so the fact he was in a playoff and had a chance to win was positive. He made only two bogeys over 72 holes. He never shot worse than 69.
"It was a great week," he said. "I think I learned a lot. I know it's such a cliché to say that kind of (stuff), but I feel like I learned. You've got to. You've to at least try to take something away from it instead of just kicking the dirt."
Plus, he's still in Hawaii.