Lucic, linemates have tough night vs. Habs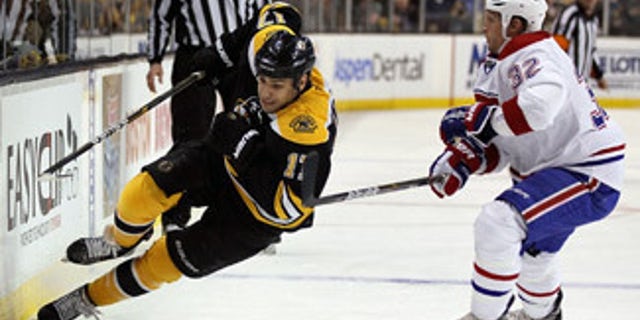 BOSTON – Milan Lucic was supposed to be a wrecking ball for Boston in the 2011 Stanley Cup Playoffs, using his size and ferocity to wear down the Montreal defense in this Eastern Conference Quarterfinal series.
In Game 1, Lucic did not live up to the hype. In fact, neither he, nor the rest of Boston's top line – fellow power forward Nathan Horton and center David Krejci were much of a factor.
But it was Lucic who was most notable in his absence. After all, he is a 30-goal scorer who spent the season making the case that he is among the game's elite power forwards.
Yet, in Thursday's series-opening 2-0 loss to Montreal at TD Garden, Lucic did not register a shot until the third period – his only shot of the game.
Worse, he committed a turnover at his own blue line – getting stripped by Scott Gomez – that set up Brian Gionta's insurance goal with less 3:18 remaining in regulation.
"I think we got better as the game went along," Lucic said. "I think we could have done better, like we talked about, in fighting for position in front of the net, making screens and getting those rebounds. They did a good job of battling with us and trying to block us out.
"But for myself, mistakes are going to happen -- and I made a mistake there and it cost us on that second goal, a costly goal for us. For myself and the team, we can't get frustrated over things like that. We have to learn from them."
Lucic, who hasn't scored since March 22 and has just 3 goals since March 1, doesn't have much time to find his way. The Bruins need him to be at his net-crashing best to have a chance against the defensively sound Canadiens.
"I think when you look at the scoresheet tonight, it's pretty obvious that we need those guys to produce for us and they're amongst the rest of the team that has to do a better job of that," coach Claude Julien said. "We'll deal with those kind of things internally, but no doubt we have some players that we'd like to see be a little better offensively and give us a little bit more of an offensive punch to their game."
Thursday night, Lucic insisted he had already put his disappointing debut in the rear-view mirror and was completely focused on Saturday's Game 2, a game he termed "a must-win to get the split we need."
He says he has learned a lot about dealing with adversity during his previous three playoff runs with the Bruins.
"In the playoffs, you got to turn the page," Lucic said. "Every game is a new day."
So what can Lucic do to be better, to be that difference-making force the Bruins want – and need – him to be?
He says he can't let Thursday's mistake, which resulted in the goal, get to him; can't let it affect his play.
"I just have to make stronger plays," he said.
In Game 1, Montreal seemed to use a version of a shadow on Krejci, the line's center, to disrupt his ability to feed Horton and Lucic for high-quality shots. The Canadiens coupled that tactic with a desire to get defensemen P.K. Subban and Hal Gill on the ice as much as possible against the Horton-Krejci-Lucic unit.
Subban, who gives away four inches and 15 pounds to Lucic, did an admirable job of shutting him down and denying the big forward the prime real estate around Carey Price's crease that Lucic needs to be successful.
But Lucic insists his line is far from vanquished.
"We need to find a way to make plays," he said. "We have to find a way to battle and to get to the net. The first game was a tough one, but we have to focus on things we did well and go from there."