LSU starts new year strong, hires Wisconsin's Dave Aranda as DC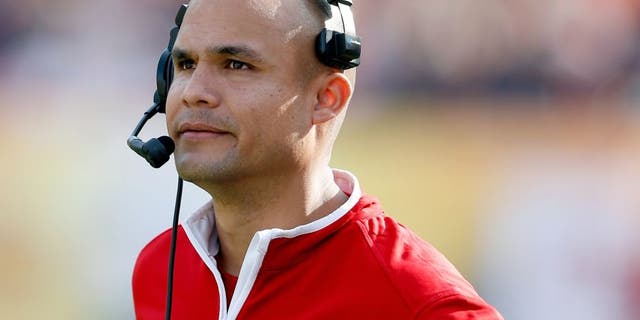 The SEC had a couple big wins on New Year's Day, but LSU might have just notched the biggest one of all by reeling in Wisconsin's Dave Aranda to run the Tigers defense.
Aranda's new deal with LSU will make him one of the highest-paid defensive coordinators in the country, a source told FOX Sports.
During Aranda's three seasons as Wisconsin's defensive coordinator, the Badgers rank No. 1 nationally in total defense, No. 2 in scoring defense, No. 3 in pass defense and No. 4 in run defense.
Les Miles announced the hiring of Aranda late Friday night.
"This is a great hire for us," Miles said. "Dave has an outstanding track record of producing some of the best defenses in college football. We've seen him up close and understand how difficult it is to have success against him.
"He's everything that we were looking for in a defensive coordinator. He's youthful with tremendous enthusiasm; our players are going to love him. He brings great defensive knowledge to our staff both as a technician and as a strategist. We are thrilled that he's joining us."
LSU opened the 2014 season against Aranda and Wisconsin, winning 28-24. However. Aranda's defense limited the Tigers to 126 rushing yards as LSU used a fourth-quarter rally to beat the Badgers in Houston. LSU opens the 2016 season against Wisconsin at Lambeau Field in Green Bay, Wisc.
Aranda replaces Kevin Steele, who left LSU to become the new Auburn DC.
Bruce Feldman is a senior college football reporter and columnist for FOXSports.com and FS1. He is also a New York Times best-selling author. His new book, "The QB: The Making of Modern Quarterbacks," came out in October 2014. Follow him on Twitter @BruceFeldmanCFB and Facebook.