Love: LeBron and I will 'carry most of the load' to start the season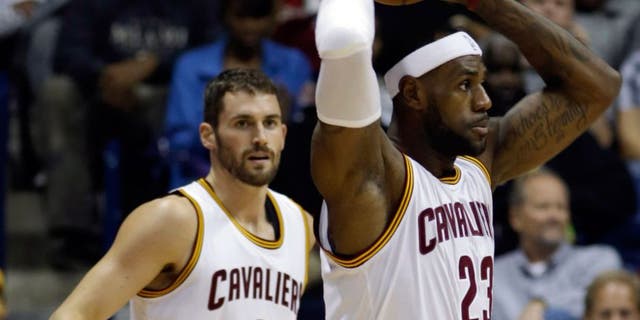 Cleveland Cavaliers forward LeBron James (23) looks to pass against the Indiana Pacers in the first half of an NBA preseason basketball game, Wednesday, Oct. 15, 2014, in Cincinnati. Cavaliers forward Kevin Love (0) watches. (AP Photo/Al Behrman) AP Photo
The Cavaliers made it to the Finals with Kevin Love out due to injury, so some questioned whether or not it was wise for Cleveland to re-sign him this summer to a deal worth $110 million over five years.
In the early part of the upcoming season, Love will have the chance to prove his worth.
Cleveland has players like Kyrie Irving and Iman Shumpert out due to injury, and Love knows that it'll be up to him and LeBron James to make sure the team gets off to the strong start that's expected.
"I think we, starting with us two, have to carry most of the load," Love said of himsefl and James. "But like you saw in last year's playoffs, I went down, Kyrie went down, and different guys stepped up, and that's what we're going to have to have." ...

"I think we're in a good place," Love said. "We know that looking at film and just going over stuff every single day that we have a lot to work on. There are certain points -- and it happens in all preseasons -- where it's not too pretty, but we'll clean that up a lot this week."
The Cavaliers will open the season on Oct. 27 in Chicago against the Bulls.
MORE NEWS: Want stories delivered to you? Sign up for our NBA newsletters.