Looks like Steelers finally have their kicker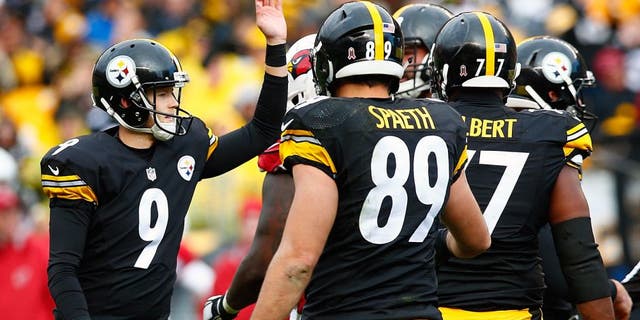 NEWYou can now listen to Fox News articles!
New Steelers kicker Chris Boswell made four field goals in Sunday's win over Arizona. Jared Wickerham Jared Wickerham/Getty Images
The third time looks to be a charm for the Pittsburgh Steelers in their kicker search.
Chris Boswell is a perfect 5 for 5 on field goals in his two games since replacing Josh Scobee, who was dismissed after missing 4 of 10 kicks plus an extra point in his four games as a Steeler. Boswell has also made all four of his PAT attempts.
Scobee was the third kicker for Pittsburgh since training camp. Shaun Suisham tore ACL in the Hall of Fame game and his replacement, Garrett Hartley, went on injured reserve with a severe hamstring injury.
Boswell earned his keep in Sunday's 25-13 win over Arizona with four field goals, connecting from 47, 48, 51, and 28 yards away. Boswell has shown no signs of wilting under the notoriously tough kicking conditions at Heinz Field, which he got a sneak preview of during his tryout after Scobee's release.
"I definitely got to see how the ball reacts in this stadium," Boswell said per the Pittsburgh Tribune-Review. "Of course, every day is different, every game is different and every kick is different. But kicking in here [during the tryout] definitely gave me some confidence."
Boswell also seems immune to pressure, an essential trait for NFL placekickers.
"I really don't pay attention to pressure," Boswell added. "I just clear my mind and kick it. I'm just excited, and ready to go back to work."