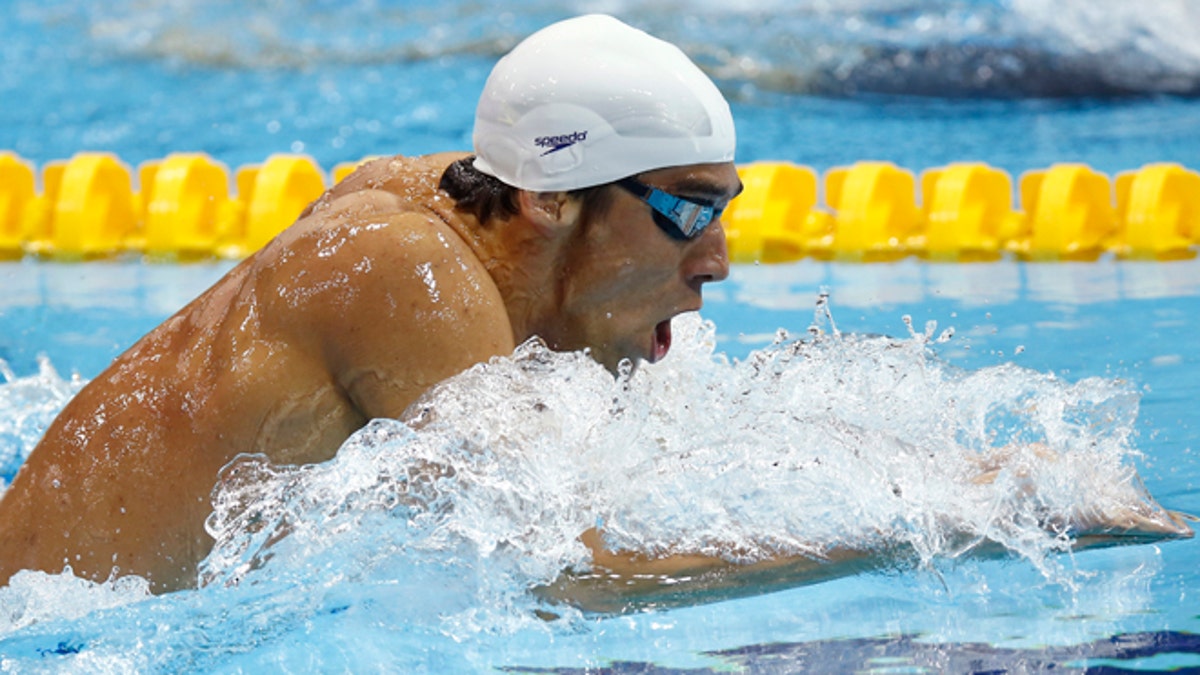 LONDON – Michael Phelps almost failed to qualify Saturday for the final in the first of his seven events and Olympic champion Park Tae-hwan was reinstated after first being disqualified in a dramatic opening session of the London Olympics swimming program.
"That one didn't feel too good," Phelps said, after squeaking into the final in the 400-meter individual medley by a seven-hundredths of a second.
Park touched the wall first in his 400 freestyle heat and was surprised by his DQ, saying, "I don't know why" after he walked off the deck.
South Korea appealed to the swimming governing body FINA, which ruled to reinstate Park after reviewing video footage, a FINA official told The Associated Press. The official spoke anonymously because the decision had not been announced publicly yet.
Park and Phelps were not the only surprise of the morning at the Aquatics Centre, where Queen Elizabeth appeared briefly.
Paul Biedermann of Germany, the world record holder for the 200-meter freestyle, failed to make the final.
"That's the Olympics," said Canadian Ryan Cochrane, who barely made the 400 free final. "It's always a surprise, every single heat. You just have to focus on your own race."
Cochrane could miss out on the final later Saturday if Park is reinstated.
In Beijing, Park became South Korea's first swimming gold medalist and then won the world title in Shanghai last year.
Phelps, the two-time defending Olympic champion, won his 400 IM preliminary heat in 4 minutes, 13.33 seconds with a time that was well off his world record of 4:03.84 set four years ago in Beijing, when Phelps won a record eight gold medals.
But it was only good enough to secure the last spot in the evening final, when Phelps will swim in Lane 1 instead of the middle of the pool.
"The only thing that matters is just getting a spot in," he said. "You can't win the gold medal from the morning."
In the 400 IM, Kosuke Hagino of Japan led the way in 4:10.01, a national record. Chad le Clos of South Africa was second at 4:12.24, and Ryan Lochte of the United States advanced in third at 4:12.35.
Phelps' time was just fast enough to keep Laszlo Cseh of Hungary, the silver medalist in Beijing, out of the final. Cseh was ninth overall after leading Phelps during their heat before the American closed on the last lap of freestyle to beat him to the wall.
"I didn't expect those guys to go that fast in their heat," Phelps said. "I was slower this morning than I was four years ago."
Phelps' time in the grueling event that he had vowed not to swim again after Beijing took some of the luster off what was expected to be a showdown between him and Lochte for gold.
"You can't count him out," Lochte said of Phelps. "Even though he just squeaked in eighth, he's a racer. We're going to do everything we can to go 1-2 tonight."
Lochte, the bronze medalist in Beijing, has won the 400 IM at the last two world championships.
"My first race is always the worst one," he said. "I'm glad I got the cobwebs out."
Dana Vollmer had the fastest qualifying time in the 100 butterfly at 56.25 seconds, setting American and Olympic records, to lead 16 women into the evening semifinals.
"I'm really happy with how fast it was and I think it's only going to get faster," she said. "That's kind of a confidence-booster. I'm ready to go."
Lu Ying of China was second in 57.17 and Australian Alicia Coutts was third at 57.36. Sarah Sjostrom of Sweden, the world record holder, was fourth at 57.45.
American Claire Donahue moved on in seventh, while British teammates Francesca Hall and Ellen Gandy were eighth and ninth, respectively.
Jess Schipper of Australia, the bronze medalist four years ago, was 24th and missed the semifinals by eight spots.
In the 400 free, Sun Yang of China qualified fastest in 3:45.07. American Peter Vanderkaay was second at 3:45.80, followed by his teammates Conor Dwyer in 3:46.24.
Biedermann washed out for the second straight Olympics. He didn't make it out of the heats in Beijing. He set the world record at the 2009 world meet in Rome at the height of the high-tech body suit craze. Those suits have since been banned.