Lock wins battle of freshmen quarterbacks in Missouri victory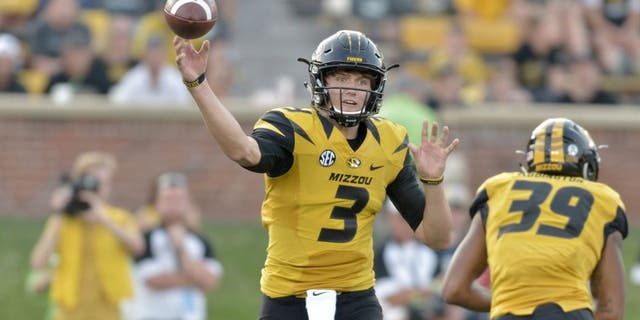 NEWYou can now listen to Fox News articles!
Missouri was able to defeat South Carolina by a score of 24-10 on Saturday afternoon. A big reason for this victory was true freshman signal-caller Drew Lock.
The showdown between Lock and fellow freshman quarterback Lorenzo Nunez was the main narrative heading into the game. Not only was it Lock's first start on the collegiate level, but it was also the first time in SEC history in which two true freshmen quarterbacks started versus one another.
Missouri's signal-caller was an efficient 21-of-28 for 136 yards and two touchdowns. There wasn't much of an attempt to drive the ball downfield. It was a calculated gameplan by Gary Pinkel, who clearly wanted to simplify things for his young quarterback. Lock executed manageable throws and took care of the ball.
On the other side of the coin, Nunez had a tough day.
The Georgia native finished 15-of-24 for 172 yards, with one touchdown and three interceptions. There were simply throws Nunez had no business attempting in the first place, and looked rattled by the constant Missouri pressure. He ultimately left in the second half with a shoulder injury.
Nunez wasn't consistent in terms of delivering the ball downfield. Lock was more deliberate with his actions. He didn't turn the ball over, and made smart decisions by not forcing anything.
While both signal-callers have undoubtedly bright futures, Lock had the upper-hand in this contest