Lightning send Jonathan Drouin to Canadiens in blockbuster trade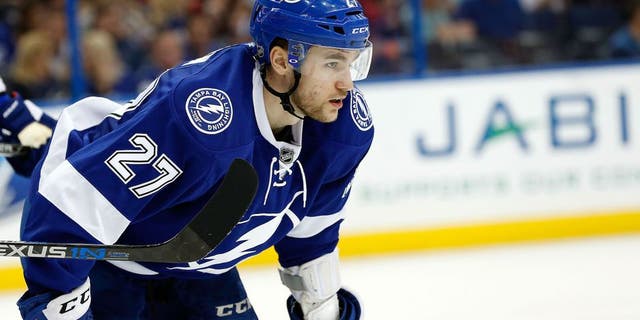 NEWYou can now listen to Fox News articles!
We're less than a weekremoved from the raising of the Stanley Cup, but the NHL offseason already has its first major trade.
In a deal announced on Thursday afternoon, the Tampa Bay Lightning traded forward Jonathan Drouin to the Montreal Canadiens in exchange for defensive prospectMikhail Sergachev and a conditional second-round draft pick in 2018. The Canadiens also get a conditional sixth-round pick from Tampa.
Drouin, 22, is an excellent young player who was selected third overall in the 2013 draft. But he hashad his fair share of drama in Tampa Bay: During the 2015-2016 season, Drouin expressed frustrations with his role in the Lightning organization and was suspended after not reporting to the team's minor league affiliate.
Early in 2016, Drouin publicly requested a trade through his agent, though that request was not granted. Later that year,Drouin played a key role in the Lightning's playoff run, tallying 14 points in 17 postseason games.This past season, he had 21 goals and 53 points.
In exchange for Drouin,Tampa getsthe Habs' top prospect, 18-year-oldSergachev, who was selected ninth overall by Montreal in last summer's draft. The Lightning were in the market for a young d-man and many people believed he was the best all-around defenseman available in that draft class. Sergachevrecorded 10 goals and43 points in 50 games for the OHL's Windsor Spitfires this year.
Prior to this deal, there were rumors that the Lightning and Canadiens were discussingswapping Drouin for Alex Galchenyuk, sobeing able to keep Galchenyuk (for now) seems like a plus for the Canadiens, who want to win now.
The Lightning are also looking to contend right nowbut they're in a more precarious situation. Several of their players including Tyler Johnson, Ondrej Palat and Andrej Sustr have expiring contracts, and they have a limited amount of money to hand out new deals moving forward.
But Tampa has forward depth, so dealing a player like Drouinwho is also a RFA in need of a new contractdoesn't bury them. It also allows them to protect another forward in the upcoming expansion draft.
While italways hurts to lose a talentedyoung player, the fact that the Lightning wereable to get another talented (and less expensive) young player at a position they coveted certainlylessens the blow.
Young defensive players like Sergachev, however, typically take longer to develop and realize their full potential, so Tampa likely takes a hit in the short term. With that being said, they've now got room to breathe on the salary cap and a very good blue lineprospect added to the pipeline.