Lidstrom says Wings have to be better at home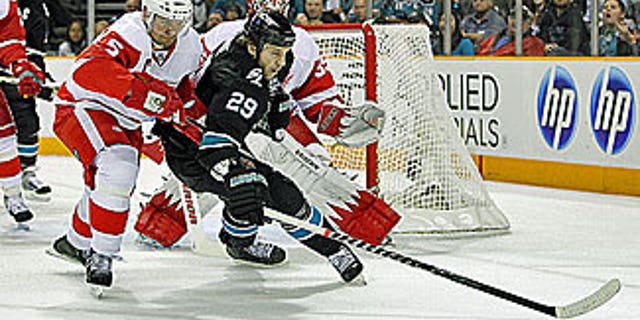 SAN JOSE, Calif. – The Detroit Red Wings picked up the level of their play in Game 2 of their Western Conference Semifinal series against San Jose, but the result was the same – a 2-1 loss.
Sunday's defeat leaves the Wings down 2-0 in the best-of-seven series as the teams head to Detroit for Game 3 on Wednesday night (8 p.m. ET; Versus, TSN).
Red Wings captain Nicklas Lidstrom answered reporters' questions following Sunday's loss.
Q: The Sharks have beaten you 10 of the last 12 meetings dating back a year. Is it starting to become a mental obstacle?
A: You turn around and go home now and get ready for the next game. That's the way you have to approach it. You can't be feeling sorry for yourself or thinking that we blew a chance. You just have to recover as a team, regroup and be ready for the next game.
Q: Is it frustrating squandering another excellent goaltending performance by Jimmy Howard?
A: It's disappointing, but he has to continue to play well for us. We have to do a better job in front of him, too -- clearing out the people coming in there and try to push their shooters to the outside a little more.
Q: Coach Mike Babcock criticized the Red Wings' forwards after Game 1. Did they do a better job in Game 2?
A: I think we can still get skating more as a group of five out there, get the puck in deep more and get on top of their defensemen a little bit more than we have in the first couple of games.
Q: Are you giving Jimmy Howard as much defensive help as he needs?
A: It's a matter of bearing down and playing a little better defensively. And we've got to score more goals, too. Getting one goal, it's hard to win in the playoffs. We have to get more shots and I think we have to create more traffic.