Lessons Learned in US Loss to Brazil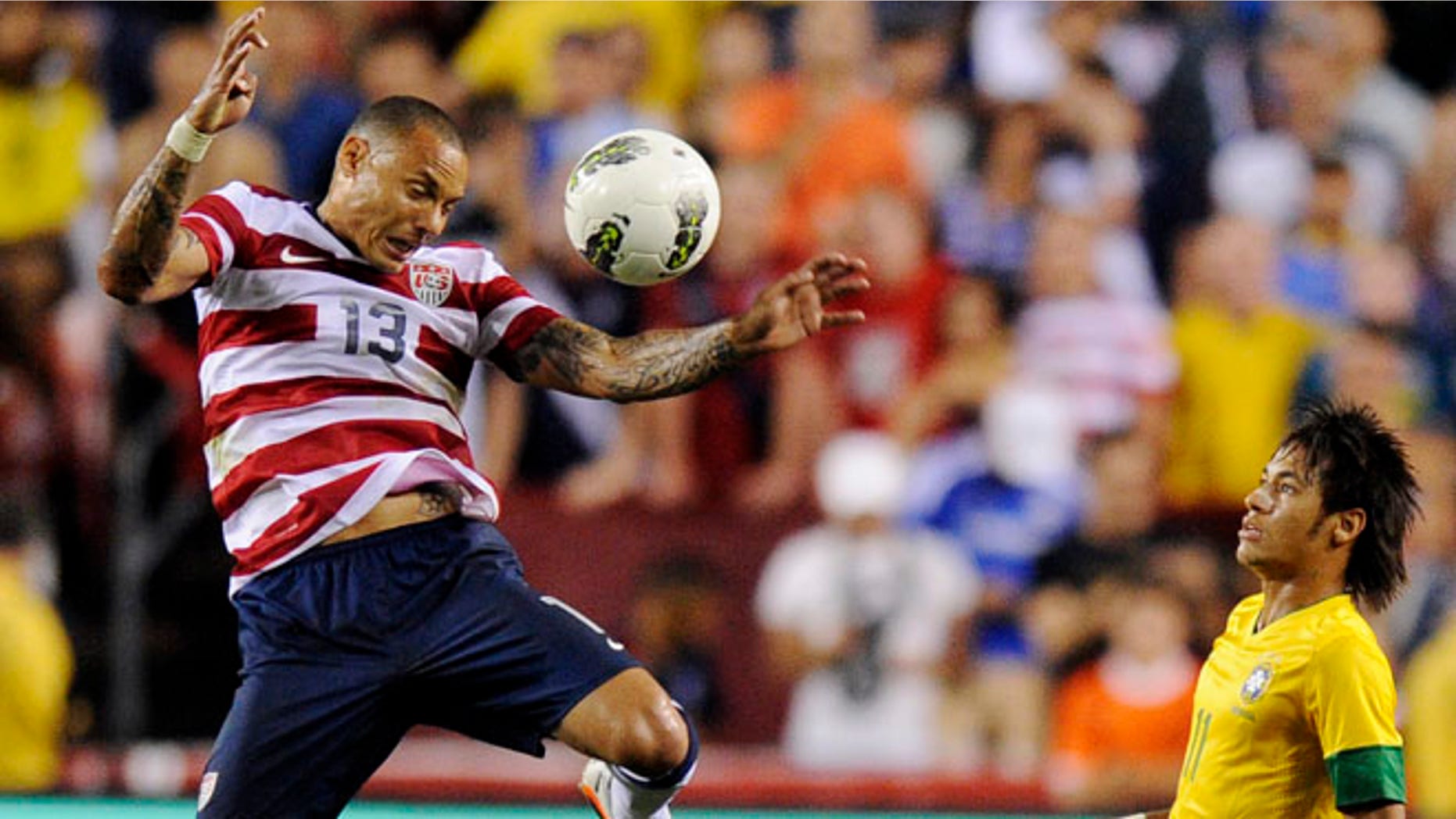 LANDOVER, Md. – In baseball, as the saying goes, you can never have enough pitching.
In soccer, you can never have enough strikers, especially high-scoring ones.
Between injuries, suspensions, falling out of form and out of the coaches' favor, a team's attacking ranks could get thin in a hurry.
And that might go double for the United States, which runs hot and cold on attack.
As it turns out, most of their best options have not been in a position to start recently.
Sure, there's Landon Donovan, who can move between midfield and striker and who had that stunning hat-trick in the surprising 5-1 triumph over Scotland on Saturday.
But as the U.S. prepares for its first run of World Cup qualifying, two money men have hardly played or made an impact, two marksmen who just came off marvelous seasons in Europe. Clint Dempsey is trying to return from a groin injury he suffered with Fulham (England) and Jozy Altidore is trying to get back into form after the U.S. lost a club vs. country tug-of-war with his Dutch club, AZ Alkmaar.
Which brings us to one Hércules Gómez.
During the Americans' 4-1 loss to five-time world champion Brazil on Wednesday night, Gómez reminded us that he should be considered part of the mix.
He worked hard, scored his team's lone goal and had a couple of other close encounters before a near full house of 67,619 at Fed Ex Field.
Gómez has been there before, as he earned a spot on the World Cup team two years ago with several promising performances during warm-up matches. He didn't find the back of the net in South Africa and became a forgotten man during the final year of the Bob Bradley regime.

Gómez went back to work in the Mexican First Division, doing what he does best -- scoring goals. He turned into one of the forces for CONCACAF Champions League finalist Santos Laguna, scoring a whole slew of goals during the Mexican Clausura season.
That performance was good enough to impress coach Juergen Klinsmann to call the 30-year-old striker into camp and give him a start. When you have so few international friendlies to impress, you have to make the best of the opportunity and Gómez certainly did, becoming only the 11th American to actually find the back of the net against the Brazilians.
"I didn't think 4-1 was maybe a score line that was indicative of the overall game," he said. "For long stretches of the game, we kind of imposed our will on them. We were unfortunate not to get some. The main difference was that they were clinical in front of the goal and we weren't. I put some of those away and it's a different game."
A true assessment, but then again, no other U.S. player was as dangerous as Gómez was the 90-minute match.
"I hope I can get a second game," he said. "I'm hoping Juergen liked what he saw. I try to leave it all on the field. It's sometimes hard playing a lone striker. But I feel good. I had fun."
Klinsmann certainly liked what he saw.
"I think we found a striker who is mobile, a fighter, who is nasty to a certain extent," he said.
If only the rest of the team was as "nasty" as Gómez. Klinsmann was disappointed that his team gave the Brazilians too much respect.
"I think sometimes you see Brazil on the calendar and you go in with a lot of respect with these type of players," Gómez said. "But they're just like us. They bleed, they hurt. We've got to get after it. I think you saw in the second half. We imposed our game. They were the ones on their heels. They were the ones that were trying to hit us. They were the ones who were fighting, sweating and battling trying to tract back.
"Once we learn that, we don't always have to be Mr. Nice Guy. We can be a little nastier, like Juergen said. We can be better off."
Many U.S. players and Klinsmann complained about two officiating decisions on the first and final goals. They didn't think Brazil should have been awarded a penalty kick that led to Neymar's goal in the 12th minute and they claimed that Alexandre Pato's goal was offside in the 89th minute.
"Some dubious calls," Gómez said. "But if we're getting ready for qualifiers. That's what we're going to have to expect, going into countries in Central America. It's not going to be easy. We can take some things away from this match, obviously a lot of positives. But some things we have to sort out."
Losing to Brazil is no great sin (unless you're from Argentina or Uruguay), even if the U.S. dropped 16 of their 17 matches against the South American side.
Despite the Americans' horrendous record, in the long run, the loss doesn't mean a thing as long as they learn from it, and use it to prepare for the future. That includes the upcoming qualifiers against Antigua and Barbuda (June 8) and Guatemala (June 12).
The home match against the Caribbean side should be a relatively easy win as anything less than a six-goal victory would be considered a disappointment.
The real competitive match will be the one in Guatemala.
The Guatemalans might be considered pushovers in CONCACAF because they have never qualified for a World Cup. But tell that to the U.S., which has but a 2-4-3 record in the Central American country. The Americans' most recent win down there was a 1-0 victory in World Cup qualifying, thanks to a Carlos Bocanegra goal in the cauldron of the Mateo Flores Stadium on Aug. 20, 2008.
Moreover, the U.S. has scored only four times in nine matches there, so Klinsmann needs as much firepower as possible at his disposal.
Dempsey came on for José Torres in the 56th minute. He didn't score, but found himself in a dangerous position in front of the Brazilian net when Gómez's header was cleared off the line by Romula in the 63rd minute.
Klinsmann is hopeful that Dempsey, coming off a fabulous season (he led Fulham with 23 goals in all competitions), can perform against Canada in Toronto in its final tune-up on Sunday.
"A fully fit Clint Dempsey makes a difference," he said.
The same can be said of Altidore, a 19-goal scorer who wound up in the middle of the seemingly eternal club vs. country struggle. Alkmaar finished its season two weekends ago, but refused to release the 22-year-old striker.
"We're happy Jozy finally joined the camp," Klinsmann said. "He wasn't released by his club AZ Alkmaar before yesterday, which made me very angry and it put Jozy in a very difficult position."
Difficult position, indeed.
"I'm in fine shape," Altidore said. "I tried to stay fit as best as I could when I was away from the team. I feel good. Anyway I can help, if called upon, I will do that."
If Dempsey and Altidore are able to return as soon as possible, it will give Klinsmann a difficult decision to make in the coming games.
But he would rather have that dilemma than not enough dangerous strikers.
Michael Lewis, who has covered soccer for more than three decades, can be reached at SoccerWriter516@aol.com.
Follow us on twitter.com/foxnewslatino
Like us at facebook.com/foxnewslatino