Leonardo DiCaprio, Jonah Hill to re-team for tale of Olympics security guard Richard Jewell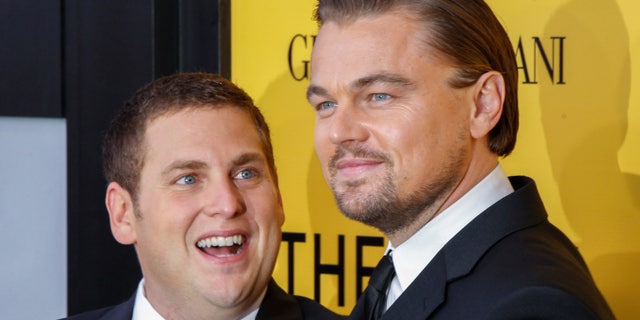 Leonardo DiCaprio says he and "The Wolf of Wall Street" co-star Jonah Hill are "going to come up with something unique" as they re-team to tell the story of 1996 Olympics security guard Richard Jewell.
Hill will star as Jewell in the planned film, which was presented to the two actors as they searched for another joint project following the Oscar-nominated depiction of stockbroker excess.
"I think it's such a heartbreaking story and such an interesting story about the 24-hour news cycle: a man becoming a hero and then the world's biggest villain within 24 hours of each other -- and dying before he got to see his name cleared," Hill said in an interview Thursday night. He was at the Santa Barbara International Film Festival presenting an award to DiCaprio and "Wolf" director Martin Scorsese.
DiCaprio is expected to both produce and play Jewell's attorney.
"The whole premise of it is fascinating in its own right. We're going to have to get together," DiCaprio said in an interview, praising Hill as a creative partner. "When you work with somebody of his talent and his vision, I think we're going to come up with something unique."
Jewell was initially hailed as a hero for spotting a suspicious backpack and moving people out of harm's way just before a bomb exploded in the Centennial Olympic Park in Atlanta, killing one and injuring 111 others. But within days, he was named as a suspect in the blast. He was eventually exonerated and died in 2007 at age 44.
Both DiCaprio and Hill are Academy Award-nominated for their work in "Wolf." DiCaprio was previously nominated for his performances in "The Aviator," ''Blood Diamond" and "What's Eating Gilbert Grape." He hasn't won.
"What I've realized over the years is that there is no predicting these things," DiCaprio said. "Of course anyone would love to be honored by their peers. But it is the old cliche. We got nominated for this. And that's a pretty amazing achievement, especially the fact that Marty and (screenwriter) Terry (Terence Winter) and Jonah both got nominated as well — for a film like this which you don't see coming from the Hollywood studio system very often, we feel pretty lucky."