LeBron James, Kevin Durant look to their next contracts after NBA Finals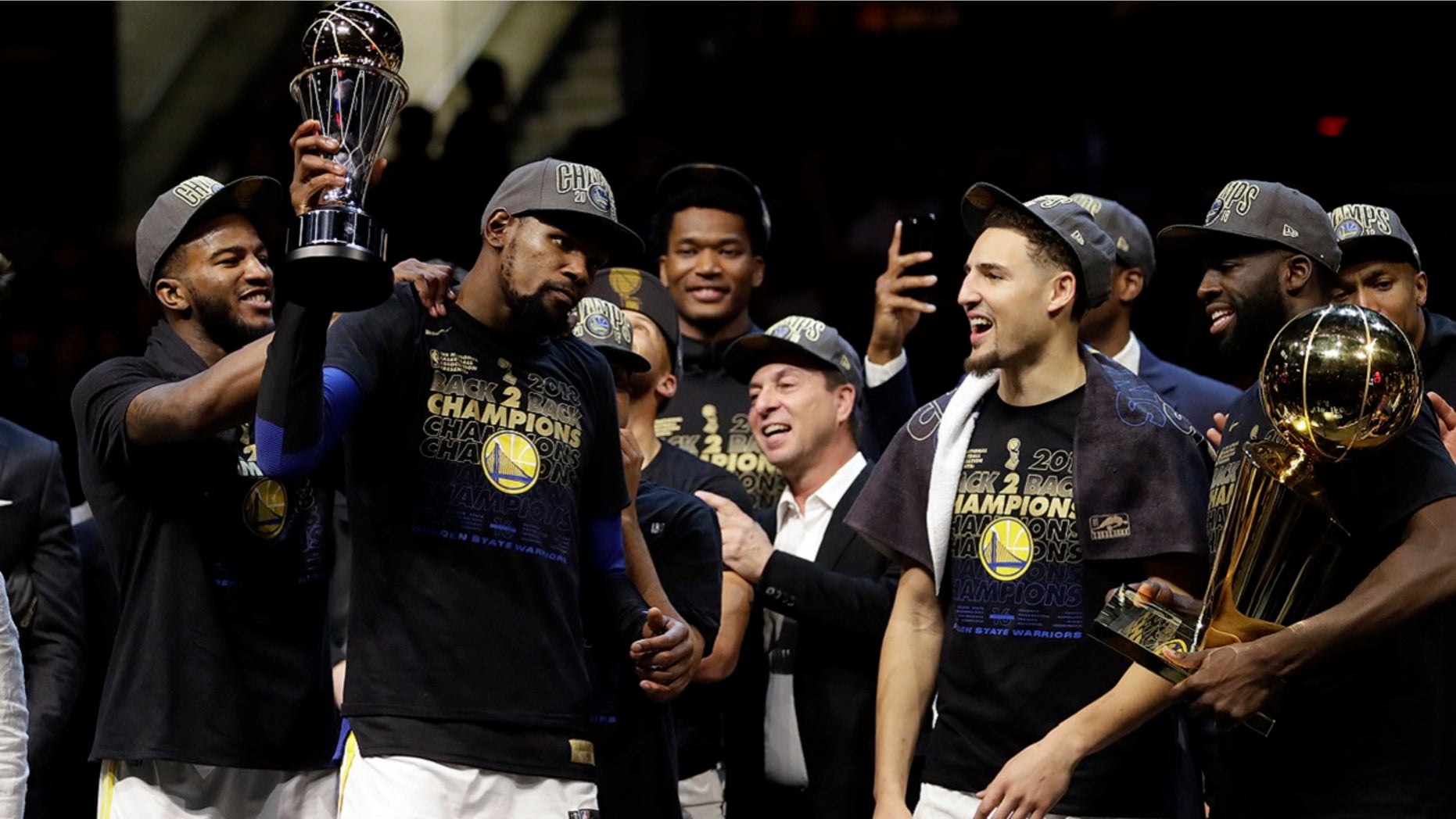 Newly crowned NBA Finals MVP Kevin Durant had already confirmed this week that he intends to re-sign with the Golden State Warriors. But LeBron James' future with the Cleveland Cavaliers was unclear.
The future career paths of the two NBA standouts became the focus Friday night after the Warriors defeated the Cavs 108-85, to complete a four-game sweep and earn their third championship in four years.
Durant finished the first year of his discounted two-year, $51 million deal that included an opt-out clause for next year's season, ESPN reported.
"I'm planning on staying with the Warriors, and we'll figure the rest out," Durant told ESPN, adding that only the "small details" remained to be figured out.
"I'm planning on staying with the Warriors, and we'll figure the rest out."
Last year, Durant accepted close to $10 million less than what he could have earned on a maximum salary, freeing enough cash for the Warriors to retain forward Andre Iguodala and backup point guard Shaun Livingston, the report said.
"It's just about the journey, all season," Durant said, upon receiving the Finals MVP award. "Getting up every day, going to work with these guys, it's amazing. The environment is incredible. It's good for you to be around guys like this. It helps you become a better basketball player and a better man."
The 29-year-old All-Star forward averaged 28.8 points in the series, along with 10.8 rebounds and 7.5 assists.
He's also the sixth player to win the Finals MVP in consecutive years, joining six-time winner Michael Jordan, three-timers Shaquille O'Neal, LeBron James, two-timers Hakeem Olajuwon and Kobe Bryant.
James, on the other hand, is still undecided about his future with the Cavaliers, the team to which he had returned from Miami in order to take care of "some unfinished business."
"Do you feel like you've played the last game for the Cavs?" a reporter asked James after Friday's game.
"I have no idea at this point. You know, the one thing that I have always done is consider obviously my family, understanding especially where my boys are at this point in their age," James said. "They were a lot younger the last time I made a decision like this four years ago. I got a teenage boy, a pre-teen and a little girl right now that wasn't around as well."
Philadelphia, Houston, Los Angeles Lakers and Boston (where former Cavs teammate Kyrie Irving plays) are among the rumored next homes for James' game.
Wherever James ends up next season, the 33-year-old superstar forward, who just wrapped up his 15th season in the NBA, shows no signs of fading.
The Associated Press contributed to this report.