Larry Mac: Jeff Gordon took NASCAR places it hadn't been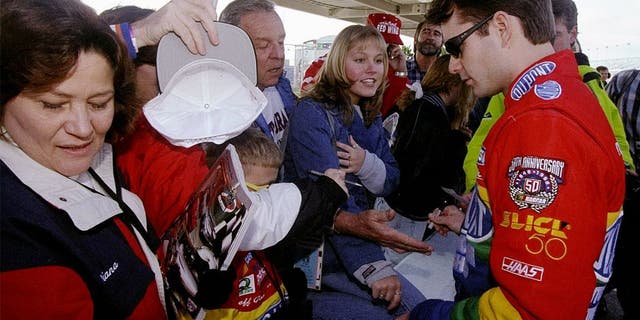 Sunday at Homestead is one of those moments in our sport that is truly the end of an era. Whether he wins his fifth and final championship or not doesn't matter, in all honesty, compared to what Jeff Gordon has done for the sport of NASCAR. We could write articles about Jeff all week and still only scratch the surface.
I liken the moment to the early 1980s in our sport. Winston came in as the official sponsor and turned our sport on its ear. Bill France Jr. took over the sport from his father and proceeded to take it to another level. You had this young, brash talker from Franklin, Tenn., -- Darrell Waltrip -- who took the sport by storm both on and off the track. We all call it the beginning of the modern era.
In 1993, another era began with this really young kid who, in all honesty, didn't fit the NASCAR mold at all. Before Jeff came along, most of our drivers were Southern boys. Cowboy hats, blue jeans, cowboy boots and big belt buckles were all the rage for the longest time. Most of the drivers were from the Carolinas, Tennessee, Florida, Kentucky and Alabama. That's just the way it was.
Then all of a sudden here comes this good-looking brash kid from California with his little mustache and mullet. He pretty much looked like he stepped off the cover of a GQ magazine. He was as bit of a game-changer in my book as he brought so many new eyeballs to our sport.
I think car owner Rick Hendrick showed other owners that it was OK to put a young, up-and-coming driver behind the wheel of a NASCAR Cup car. Rick felt and showed us all it was OK to take a risk on a kid in his early 20s. That was a big departure from what our sport had been until that point. Owners back then wanted proven, experienced drivers and not someone unproven who might wreck every weekend.
So that was a watershed moment in the history of NASCAR that led to the Joey Loganos, Kyle Larsons and the Chase Elliotts of the world being given their shot very early in their career. Think about this for a second: Joey Logano is only 25 years old and this marks his seventh full-time season in the NASCAR Sprint Cup series. To me, Jeff is the guy who opened that door and paved the way for these younger guys to get their shot.
For all that he has accomplished on the racetrack, Jeff will be the first to tell you that he is proudest of what he has been able to do off the racetrack. The Jeff Gordon Foundation has made a huge impact on the lives of children battling cancer. He's done a lot to help those less fortunate. Even though he climbs from behind the wheel Sunday evening for the last time, the charitable part will continue on, and for that, a lot of deserving folks will benefit.
Let's go back a second, though, to what he's done on the racetrack. There is no question the minute he becomes eligible, he will be a first-ballot lock into the NASCAR Hall of Fame. The man has four championships and maybe, just maybe, a fifth comes Sunday evening. He's won 93 races, making him the third-winningest driver in the history of our sport. Sure, there's a chance Jimmie Johnson might get close to it, but I'd be hard-pressed to tell you anyone else who could put up those kind of numbers and surpass Jeff in the win column.
Personally, I'd love to see Jeff get that fifth championship Sunday, but if it doesn't happen, the reality is it doesn't matter, because Jeff Gordon has already cemented his spot as one of NASCAR's greatest all-time drivers.