Larry Mac: It's 'Hail Mary' or bust for three Chase drivers at Phoenix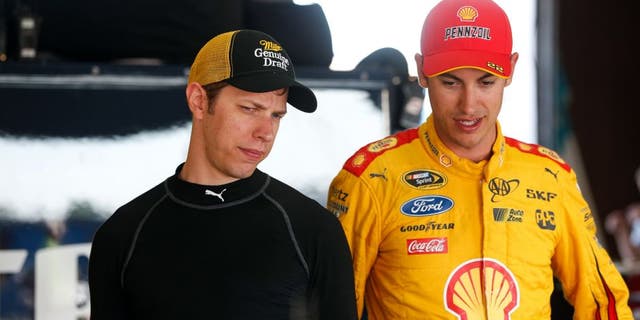 So this is it. We are down to the final race before the championship race next Sunday in Homestead. Only one driver, Jeff Gordon, is locked into that race. There are three positions yet to be filled and we won't know until this Sunday's race what names to write in those positions.
To me there are three drivers who have to throw a "Hail-Mary" pass to even have a chance to make it into the final Chase race. Those would be Joey Logano, Kurt Busch and Brad Keselowski. We know from past experience that Phoenix is one of those places where strategy can and does play a role, but regardless of where the next-to-last race of the season is, those three drivers have to try anything and everything.
It might be going for broke and trying to stretch their fuel mileage. It might be some strategies we see play out on pit road like maybe only a two-tire or even no-tire call. Unlike Texas where fresh tires were so important, Phoenix has as a fair amount of grip, so the tires don't drop off as dramatically. The other thing to remember is Phoenix is a short race, so there aren't going to be a lot of trips to pit road.
All Jeff Gordon cares about this Sunday is winning another race before his NASCAR Hall of Fame career comes to an end next Sunday. They are really more concerned about dotting their "i's" and crossing their "T's" as they prepare to help Jeff try to win his fifth and final championship at Homestead.
Even though Kyle Busch, Kevin Harvick and Martin Truex Jr. sit in the second, third and fourth positions in points, respectively, they simply can't go into "conservative" mode at Phoenix. Now sure, you won't see them trying crazy, out-of-the-box strategy like trying to go eight to 10 laps to stretch fuel, but they better run it like a normal race and be pretty aggressive.
I say that because of that variable about "what if" Joey, Kurt or Brad steps up and wins that race? If that happens, they have gobbled up one of those three remaining spots, leaving only two openings for drivers to point their way into the championship battle. We do know today that two drivers will advance on points.
I try not to pull for any driver over the other. My job as a broadcaster is to be as impartial as I can be. With all that said, when you look at the four drivers who are in right now -- Jeff, Kyle, Kevin and Martin -- there is layer after layer of storylines.
As I mentioned, we have a four-time champion with a chance to win his fifth and final championship in literally the last race of his career. Then there's Kyle Busch, who will have made a miraculous recovery from his broken legs suffered the day before the Daytona 500, coming back to win his first NASCAR Sprint Cup championship with eleven FEWER starts than the other drivers. Then there's Kevin Harvick trying to defend his 2014 title and trying to become a two-time NASCAR Sprint Cup champion.
Finally there's the guy in fourth right now, Martin Truex Jr. If he was able to pull off the championship, it would go down as one of the greatest upsets in NASCAR history. This is a single-car team based in Denver, Colorado. This is a team and driver that finished outside the top 20 in points last year and that struggled with on-track and off-track issues throughout 2014. You also have to assume they are sitting on somewhat of an island by themselves right now, as it's already been broadcast that they are leaving Chevrolet at the end of the season and moving over to Toyota.