Landeskog, Avalanche rally to beat Stars 6-3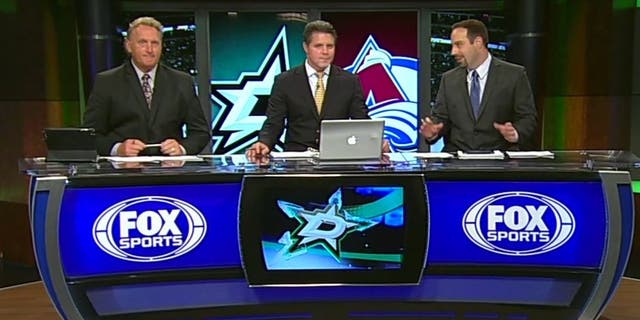 NEWYou can now listen to Fox News articles!
DENVER (AP) -- After a late collapse cost them in their season opener, the Colorado Avalanche put together a rally of their own against the Dallas Stars on Saturday night.
Gabriel Landeskog scored twice in the third period, one 47 seconds after John Mitchell's tiebreaking goal, and Colorado scored five straight times to beat the Dallas Stars 6-3 on Saturday night.
Nathan MacKinnon had a goal and two assists, and Jarome Iginla and Erik Johnson also had goals for Colorado, which shook off a disappointing 5-4 loss to Minnesota on Thursday night.
The Avalanche had a 4-1 lead before the Wild scored four goals in a span of 5:07 in the third period to pull out a stunning win.
Colorado turned the tables with its comeback against Dallas.
"It's huge to bounce right back like we did, confidence-wise, for our team to know that we have a strong group in here," Landeskog said.
It was Colorado's seventh consecutive win over Dallas and 10th victory in the last 11 games against the Stars.
Cody Eakin had two goals, and Mattias Janmark had his second tally in as many games for Dallas. Antti Niemi stopped 22 of 28 shots after his 37-save shutout of Pittsburgh on Thursday night.
"It just stinks to lose that game," Jason Spezza said. "It's frustrating to lose this game after we had a 3-1 lead, but we just have to get back to work."
With the game time at 3, Mitchell beat Niemi from the left circle at 8:11 to give Colorado its first lead of the game. Landeskog scored at 8:58 to give the Avalanche a 5-3 advantage.
"I wanted to make sure I was kind of staying in that low slot area, close to the net but not too close," Mitchell said. "They found a way to get the puck out to me, and I just had to shoot as quick as I could. There were a lot of guys around me and not much time."
Landeskog iced it with his second of the game and third of the season. He also had two assists.
Janmark gave the Stars a 1-0 lead when he beat Semyon Varlamov with a backhander 20 seconds into the first period. It was the second time in as many games the rookie scored early. He scored his first just 1:39 into Thursday's win over Pittsburgh.
"You look at what happened in the third period against Minnesota, any team would be affected at the start of the game," coach Patrick Roy said. "But at the end, you get to see if you have character."
The Avalanche tied it when MacKinnon took a pass from Alex Tanguay and beat Niemi with a backhander of his own at 9:06 of the first.
Eakin gave the Stars a 2-1 lead 1:15 later when he scored from close in. He got his second goal of the night on the power play at 8:50 of the second.
The Avalanche rallied to even it with a pair of power-play goals later in the second.
Johnson got the first one with a slapshot from the point at 14:53. Iginla tied it at 17:51 with his second goal in as many games.
"We're playing pretty well until we had a couple of mistakes on our penalty killing," Dallas coach Lindy Ruff said. "Still, it's a 3-3 game with 20 minutes left. They got to pucks a little quicker than we did, they won the battles. Their best players were their best players and ours weren't."
Iginla's tally tied him with Mark Messier for 26th in career power-play goals at 179.
NOTES: Varlamov finished with 30 saves. ... Stars D Jordie Benn left the game after taking a shot off the right leg in the third period but returned. ... Iginla played in his 1,394th career game. He tied Stan Mikita for 36th on the NHL's all-time list. ... Stars D Patrik Nemeth and Jamie Oleksiak and C Colton Sceviour were healthy scratches. ... Colorado scratched D Brad Stuart and Brandon Gormley for the second straight game.