Kyrie Irving's 37 points lead Cavaliers to 2-0 series lead over Pacers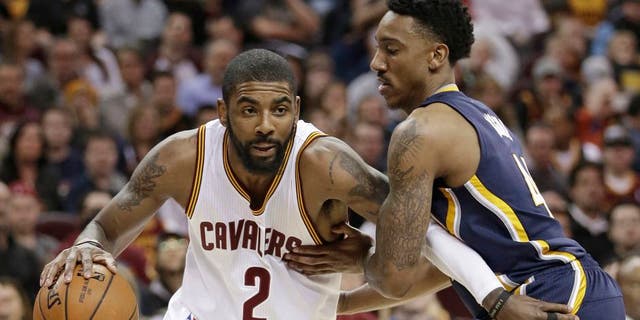 NEWYou can now listen to Fox News articles!
The Cavaliers have had lapses on the defensive end of the floor all season long, but when they're clicking on offense the way they were against the Pacers on Monday, they're almost impossible to stop. Behind a game-high 37 points from Kyrie Irving, Clevelandcame away with a 117-111 Game 2 victory that put the Cavaliers up 2-0 in the best-of-seven-series.
Cleveland led by as many as 13 points in the first half, but 11 turnovers in the first two periods allowed the Pacers to stay in the game, and the Cavaliers led by just five heading into break. Paul Georgeand LeBron James had 18 and 17 points respectively, and each had their fair share of highlight-worthy dunks.
The third quarter is where the Cavaliers took complete control, and at least part of the damage was due to Indiana's defensive scheme.
In Game 1, the Pacers kept finding themselves with Jeff Teague switched onto LeBron James, and the results went exactly as you'd expect. In this one, Lance Stephenson was matched up against the much taller Kevin Love in the third, and Love responded by going on a personal 10-0 run as the Cavaliers continued to exploit the mismatch as long as the Pacers stayed with it. Irving added 14 points of his own in the period, and Cleveland's lead ballooned to as many as 19 points.
The Pacers made a late run thanks to one of those defensive lapses we mentioned, but the Cavaliers sealed the victory with a nifty out of bounds play that led to an easy bucket for Irving, followed by a fierce rejection at the rim by James that helped to wrap things up.
George was magnificent for the Pacers, and finished with 32 points, eight rebounds and seven assists. The only consistent offensive help he got was from Teague, but the Indiana point guard got torched so badly by Irving that his 23 points and four assists went largely unnoticed.
This was the first time that LeBron, Love and Kyrie all had at least 25 points in the same playoff game since joining forces in advance of the 2015 season. The defensive problems won't matter much if Cleveland can find a way to keep the offense clicking like this.