Kyle Busch poised to keep torching competition on Sunday at Pocono?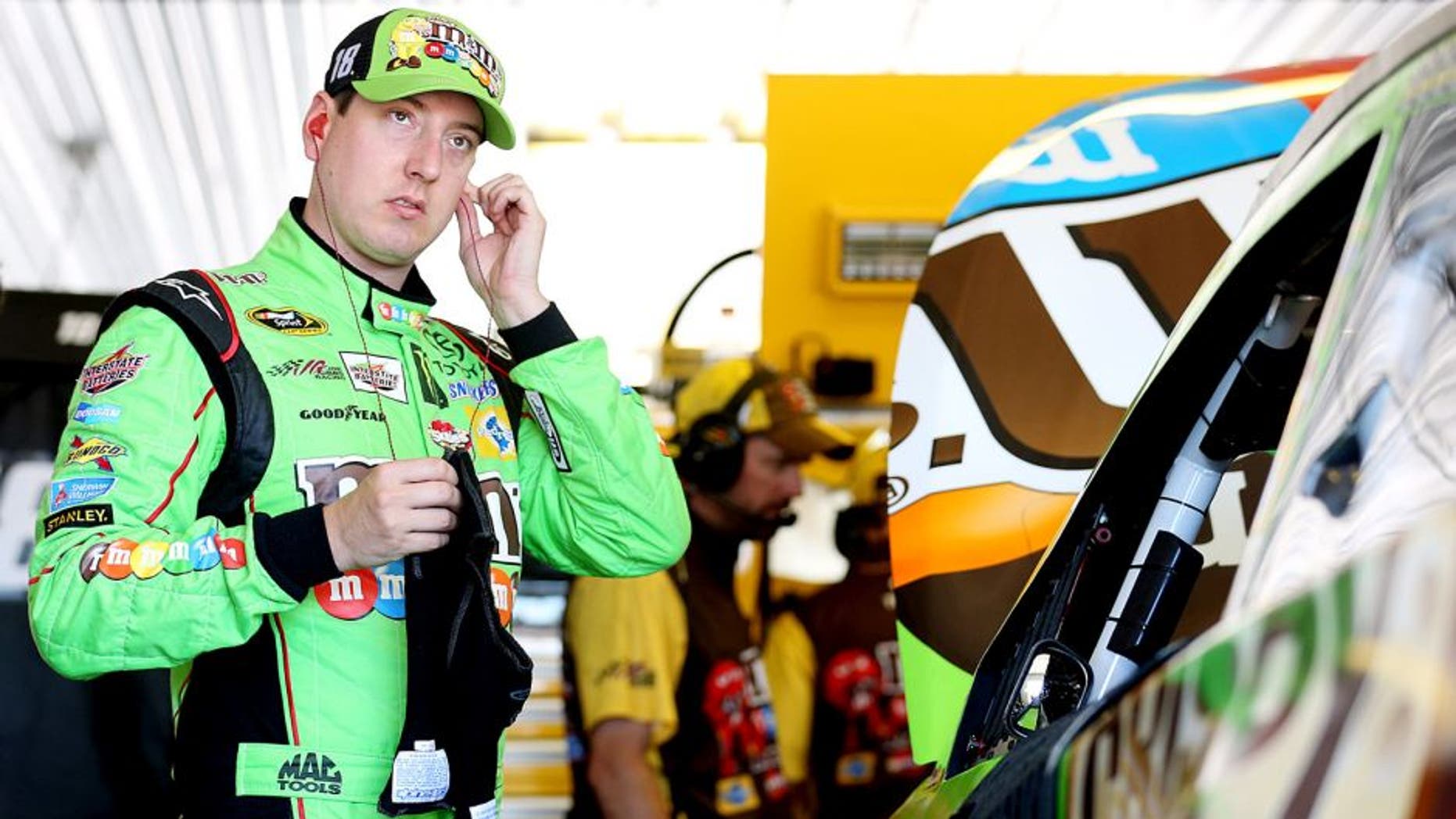 There's really only one relevant question in advance of Sunday's Windows 10 400 at Pocono Raceway: Can anyone stop Kyle Busch, far and away the hottest racer in NASCAR?
At first blush, the answer would appear to be a resounding no.
Here's how hot Busch is right now:
He's won three consecutive NASCAR Sprint Cup Series races and four of the past five.
He's won the most recent race he's entered in each of NASCAR's top three series -- Cup, XFINITY and Camping World Truck Series.
In his last seven starts at Pocono, Busch's average finish is 20th, and he hasn't led a single lap in any of those races. Yet on Friday, Busch put the No. 18 Joe Gibbs Racing Toyota on the pole for Sunday's race.
On Saturday, Busch hit the wall during the final Happy Hour practice. And after his crew repaired the damage, he went out and put up the fastest time of the session. Then he climbed into his Toyota Tundra and won the Truck Series race.
Put it all together and Busch is about as hot as hot gets right now. But that doesn't guarantee him a victory during the Cup race. During the past 20 years, the only drivers to win four consecutive Cup races are Hendrick Motorsports' Jeff Gordon, in 1998, and teammate Jimmie Johnson, in 2007.
Busch, who endured a disappointed 2014 campaign as well as debilitating leg and foot injuries at Daytona earlier this year, is understandably thrilled with his recent reversal of fortune.
"This year certainly the tides are 180 degrees different," Busch said after his pole run late Friday. "Obviously, being able to do everything right means a heck of a lot more in this business, and we're just trying to ride that wave as long as it will carry us. Hopefully, it's got 16 weeks left in it. It's just amazing what we're on."
In Sunday's main event at Pocono, Busch's toughest competition may well be his own Joe Gibbs Racing teammates. During Saturday's first round of Sprint Cup practice, JGR swept the top four spots, with Carl Edwards leading Matt Kenseth, Busch and four-time Pocono winner Denny Hamlin.
During the final Happy Hour session, the four JGR Toyotas were all in the top eight. On Sunday, it would come as no surprise if any of the four found Victory Lane.
In terms of other competition, Stewart-Haas Racing teammates Kevin Harvick and Kurt Busch ought to contend on Sunday. The elder Busch has two victories and 12 top fives at Pocono, including six in the last eight races. And Harvick has been fast all weekend, qualifying second and timing in fourth in Happy Hour.
Certainly, don't count out the two Team Penske Fords, either. Brad Keselowski is a past Pocono winner, while in the last seven races this season, Joey Logano has finished in the top five on six occasions.
The wild card in all this would be the Hendrick Motorsports team, which is coming off its worst Brickyard 400 ever and clearly looks to be behind the JGR squad at the moment. But Dale Earnhardt Jr. swept here last year and Johnson is usually a threat to win wherever he goes.
But as the old saying goes, "To be The Man, you've got to beat The Man."
And while Kyle Busch has 42 other drivers who'd like to beat The Man, right now, he's the only one who is The Man. We'll see if that holds true come Sunday afternoon.