Kyle Busch, Brad Keselowski: Adversaries to start on front row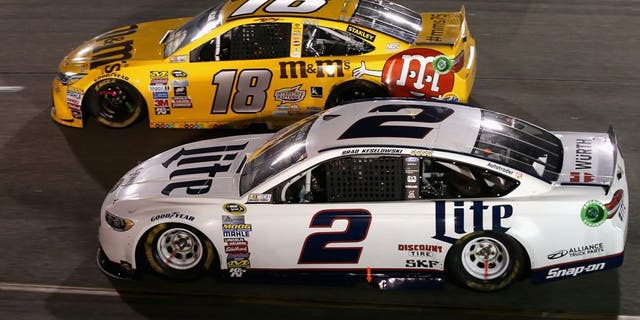 Kyle Busch and Brad Keselowski have a lot in common.
They are the top two seeds in the Chase for the NASCAR Sprint Cup, the 10-race, season-ending playoffs that begin Sunday at Chicagoland Speedway.
Each man has a Cup championship, Keselowski in 2012 and Busch last year.
The two have each won four races so far this year, most in the Sprint Cup Series.
Both have had their fair share of haters and controversies over the years.
Neither driver likes the other.
Each knows he'll face a stern challenge from the other in the Chase.
And they will start Sunday's Teenage Mutant Ninja Turtles 400 alongside each other on the front row, with Busch on the pole and Keselowski on the outside of Row 1.
Keselowski and Busch already have a bit of a rivalry, but it's not quite like Petty-Allison, Yankees-Red Sox, North Carolina-Duke or Bears-Packers level of rivalry.
Yet.
But it could be.
Based on how they're running, Busch and Keselowski are definitely two of the favorites to be among the four drivers who advance to the final round of the Chase, which takes place Nov. 20 at Homestead-Miami Speedway.
This isn't a rivalry for the ages yet, but if the two wound up going down to the wire this year, the heat and intensity will ratchet up sharply.
When asked who he thought would be his biggest championship competition, Busch first mentioned Keselowski and his Team Penske partner Joey Logano.
"I would look at the Penske guys and then I'd look at (Jimmie) Johnson," said Busch during Thursday's Chase Media Day. "I think those eight (the five Toyota Chase contenders, the Penske cars and Johnson) are probably the top teams, drivers, crew chiefs that have shown so far this year that they're capable of winning races, competing up front."
For his part, Keselowski wants to find more speed, which is understandable: While he and Busch have each won four races this year, Busch leads the Sprint Cup Series with 1,244 laps led, while Keselowski is ranked just sixth, with 442 laps led.
"I think we have good cars," said Keselowski. "We haven't been the best cars but we have been kind of keeping everybody honest. Of course we want to evolve to be the best cars but you don't have to be the best car to win. That is one of the great things about racing."
And one of the other great things about racing is when two champions really don't like each other. Which could make for a very interesting next 10 weeks.