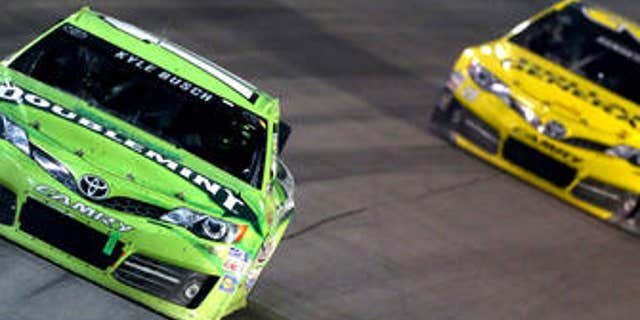 As weekends go, Kyle Busch had a spectacular one, winning the NASCAR Camping World Truck Series race at Chicagoland Speedway Friday night and the NASCAR Nationwide race there on Saturday afternoon.
In Sunday night's big race, the GEICO 400 NASCAR Sprint Cup race at the 1.5-mile oval, Busch had a third consecutive excellent outing, wheeling his Joe Gibbs Racing Toyota to a second-place finish behind teammate Matt Kenseth, who won his series-high sixth race of the year.
But being the competitor that he is, Busch was disappointed that he lost the race on the final restart on Lap 245 of the 267-lap race, when he took the green flag as the leader. Kenseth, who was running second at the time, got a push from Kevin Harvick and went into the lead, a lead he would never surrender, while Busch would have to settle for second, denied a shot a victory and denied a shot at his second three-race sweep, which he did previously at Bristol in 2010.
"I beat Kenseth to the line," Busch said of the restart. "I thought I had enough to stay alongside of him through (Turns) 1 and 2 to be alongside of him down the back, but the 29 (Harvick) pushed him down the back. That was our race."
Not completing the triple was a bitter pill to swallow for Busch.
I watched it slip right away," he said. "It sucks. Nothing you can do about it. Certainly it would be nice if we could have won tonight and brought home a trifecta. I didn't think we had a chance after yesterday's practice. In the race today, the car was totally different. I could drive the heck out of it. It was going to be cool. There's always those cautions."
Still, given Busch's history of getting off to slow starts in the Chase for the Sprint Cup, and given the 6-½ hours of rain delays at Chicagoland Speedway on Sunday, it was a great result. All told, Busch led 67 laps, second only to the 89 led by Kenseth.
And so the two will head to Loudon, N.H., with Kenseth leading Busch by eight points. Busch now has 12 top-five finishes on the season, tops in the series. It helped immensely that several Chase hopefuls had bad points nights, most notably Joey Logano and Dale Earnhardt Jr., both of whom succumbed to engine failures.
"It's a process," Busch said. "Our program seems to be working well with these mile and a half tracks, but also Kenseth has won on a short track as well with Bristol. Optimism in the final 10 (races), which half of them are mile and a half (tracks)."