Kristaps Porzingis practices with Derrick Rose, says 'he's still got it'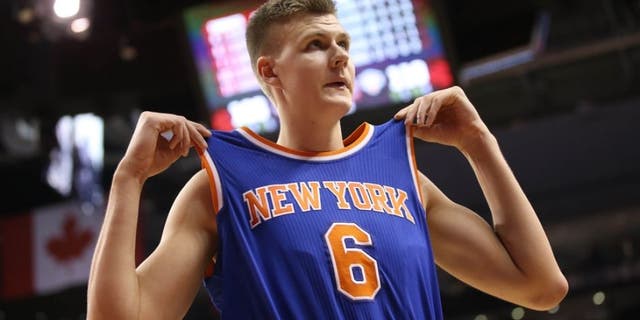 Believe it or not: The 2016-2017 NBA season is fast approaching, and one of the many intriguing storylines for the upcoming campaign is without a doubt the new-look, revamped New York Knicks.
The future of the franchise, Kristaps Porzingis, spoke with ESPN's Ian Begley this weekend and had some interesting things to say about the team's high expecations...
"Obviously, the No. 1 goal is the playoffs this year," he said Saturday at a camp he hosted for children in Westchester, New York. "That's where my head is at. I can't be thinking nothing past that. Right now it's the playoffs."
On whether or not the Knicks are a "Super Team", as Derrick Rose labeled them:
"I don't know what's a Super Team and what's not a Super Team but what I think he meant was that we're able to win every game ... Not that we're going to win 82 games, zero (losses). But every team that comes up, we're able to beat them because we have enough talent. I think that's what he meant and I like the confidence, I like that he believes that we're good enough. So it's just, now we've got to prove it. It's enough talking and we've got to go out on the court and prove that we're a good team."
On his relationship with new teammate, Joakim Noah:
"He's great, I love him. The first conversation we had, I was in the training room, he came in with his shirt off and I was like, 'Oh man you've been working out.' He's a really cool guy and we just started talking about the season and I told him everybody's excited. This is a big year for us. And we kept on talking and he just got so intense, like he really feels it, like he was like, 'Yeah man this is a big opportunity, we've got to give it our all.' That's the type of guy that we want on our team. He brings that good energy."
And as for the team's new point guard, who has been riddled by injury ever since his MVP 2011 season:
"He's still got it ... He's still Derrick Rose. And so it will be exciting to play with him. He draws so much attention when he's driving, he's so dangerous that I'm going to be wide open and that's what I'm looking forward to. He's going to be creating for me and other teammates."
If Porzingis' declaration regarding Rose is true, maybe this team might be "Super" this season after all...