K&N Pro Series East season opener at New Smyrna ends in controversy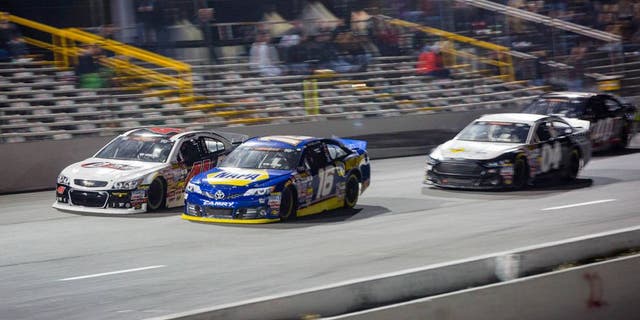 NEWYou can now listen to Fox News articles!
The ending of NASCAR's K&N Pro Series East Jet Tools 150 at New Smyrna Speedway on Sunday night was nothing short of bizarre.
On what appeared to be the final lap of the race, leader Todd Gilliland and Spencer Davis crashed after contact was made between Gilliland and third-place driver Ronnie Bassett Jr. entering Turn 3. This allowed Bassett Jr. to assume the lead and cross the finish line in first.
But, it was Gilliland who was called to Victory Lane after officials confirmed the race was extended an extra lap and reached its scheduled distance prior to the wreck.
"It was crazy," Gilliland said after the race. " I don't really know what happened, but it all ended up being okay for us. I pulled in third and they told me to go to Victory Lane."
NASCAR released an official statement after the conclusion of the event:
"As tonight's K&N Pro Series East race neared the conclusion of the advertised distance, there was a delay in the appropriate flags being displayed to the field. As a result, the race continued for an additional lap beyond the scheduled 150 laps, during which a wreck occurred involving cars at the front of the field. Per the NASCAR K&N Pro Series East Rule Book Section 10-2.11.B, the official results of the race reverted to the running order at the completion of lap 150, the advertised distance. NASCAR will review the circumstances surrounding the finish and take steps to avoid a recurrence."
Full results from the NASCAR K&N Pro Series East Jet Tools 150 at New Smyrna Speedway:
1. Todd Gilliland
2. Spencer Davis
3. Ronnie Bassett, Jr.
4. Kyle Benjamin
5. Justin Haley
6. Noah Gragson
7. Ryan Preece
8. Tyler Dippel
9. Riley Herbst
10. Dominique Van Wieringen
11. Collin Cabre
12. Gracin Raz
13. Harrison Burton
14. Trey Hutchens
15. Kaz Grala
16. David Calabrese
17. Reid Wilson
18. John Holleman, IV
19. Codie Rohrbaugh
20. Ali Kern
21. Ruben Garcia Jr.
22. Sarah Cornett-Ching
23. Jairo Avila Jr.
24. Austin Theriault
25. Clayton Green
26. Christian Celaya
27. Dillon Bassett
28. Ulysse Delsaux
29. Hunter Baize
Race22.com and popularspeed.com contributed to this story.