Khabib Nurmagomedov isn't going to wait around for Conor McGregor to defend the title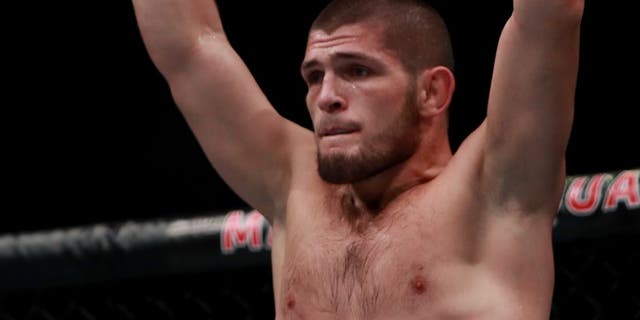 Khabib Nurmagomedov isn't going to sit around and wait for a title fight against Conor McGregor after all.
The top ranked Russian lightweight has led an emphatic campaign to get a shot at McGregor ever since UFC 205 ended just a couple of weeks ago. On that night, Nurmagomedov put on a dominant performance to submit Michael Johnson to move his record to 24-0 while McGregor ultimately bested lightweight champion Eddie Alvarez by second round TKO.
As much as Nurmagomedov wants to beat McGregor and take the lightweight title from him, it seems he's not willing to wait for the Irishman to return to action as he takes some time off while awaiting the birth of his first child in May 2017.
So rather than sit out, Nurmagomedov has targeted a new opponent for early next year instead.
"I feel very bad about this because before this year I had two years rest because I have injuries all the time. Now I don't want to be waiting for this guy," Nurmagomedov told RT Sport. "If Conor don't want fight before May/June, I want to take other fight.
"I want to fight for the interim belt with Tony Ferguson."
Ferguson is currently riding a nine fight win streak and he's actually been matched up with Nurmagomedov twice previously, although both bouts were ultimately cancelled due to injury.
Nurmagomedov forced the cancellation of the first fight and then Ferguson suffered his own injury when the UFC tried to book the bout a second time.
Now Nurmagomedov is healthy and ready to fight and he hopes Ferguson will accept his challenge to meet next year.
"Last time he was injured, he pulled out, not me. He pulled out, he's not coming to April 16 to the fight. Before I have injury so now it's why not," Nurmagomedov said. "I think the UFC wants to make this fight, I feel this and for me it's perfect date, this is March. Not early, only March."
While Nurmagomedov still hopes to one day wrestle the real lightweight title away from McGregor, it seems he's resigned to compete for an interim belt in his absence. Nurmagomedov had previously stated that if he didn't receive a title shot in his next fight in the UFC that he would leave the organization.
Of course the UFC has made no clear indication that they would introduce an interim title with McGregor taking off the next few months after a very busy schedule that saw him compete four times over 11 months.
Still that's what Nurmagomedov wants while looking at Ferguson as his toughest competition to date -- even tougher than the current lightweight champion.
"Tony Ferguson is a tough guy, tough opponent," Nurmagomedov said. "Nine (fight) winning streak. I think this is real high level lightweight fight.
"Not Conor versus me. I think this is real high level fight."