Key plays aside, Packers' defense must work on fundamentals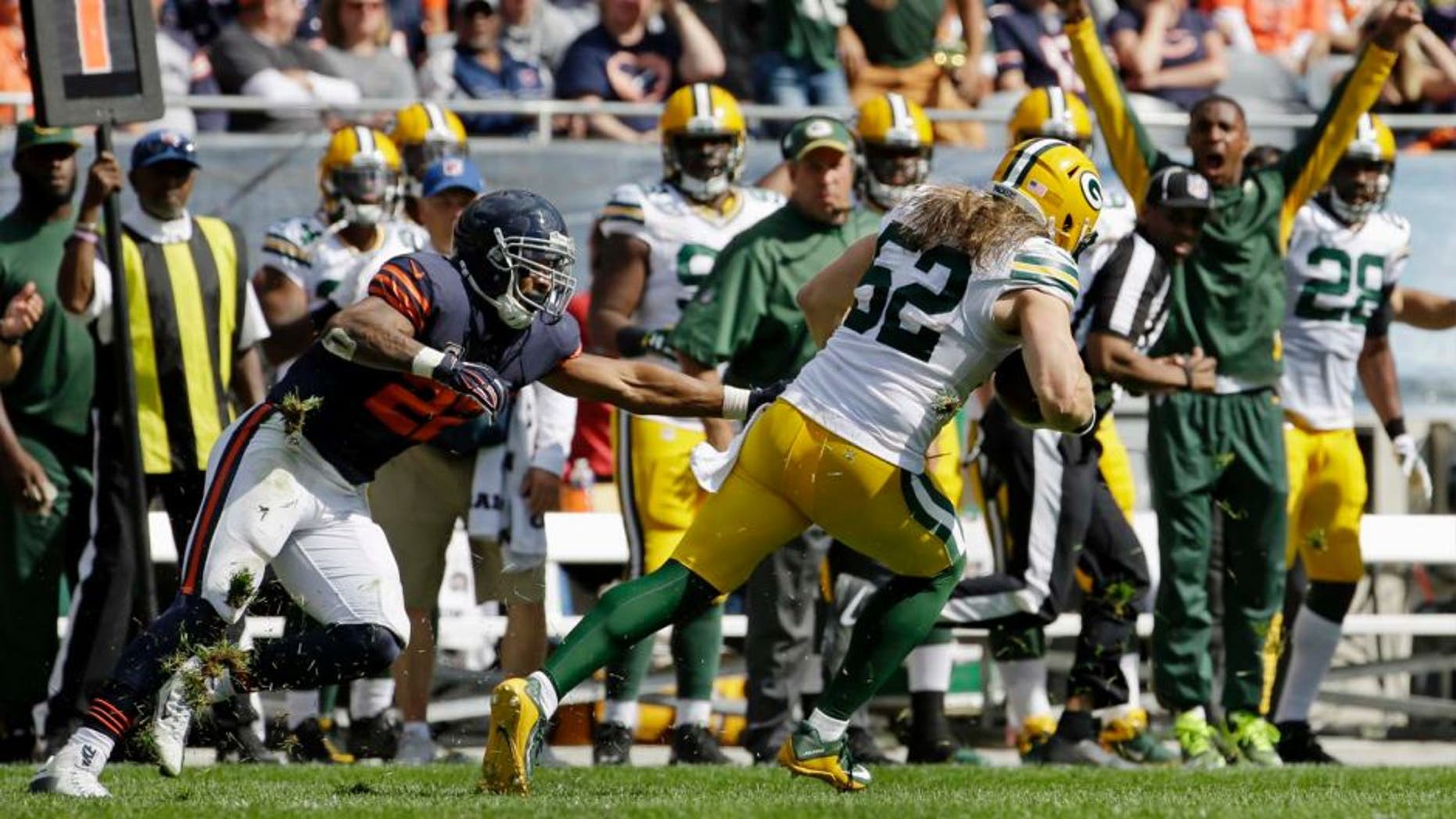 GREEN BAY, Wis. -- From linebacker Clay Matthews' fourth-quarter interception to a successful goal-line stand on fourth down, the Packers defense came up with big plays in the clutch in the season-opening win against the Chicago Bears.
It might have been an easier afternoon if Green Bay's defense didn't miss so many tackles.
Better wrap up better with bullish running back Marshawn Lynch and the Seattle Seahawks coming to Lambeau Field next weekend.
"We were in double-digits missed tackles. That does not cut it," Packers coach Mike McCarthy said Monday.
Bears running back Matt Forte dented the Green Bay defense again on the ground for 141 yards and a touchdown on 24 carries. Chicago was 11 of 17 overall on third downs, and 7 of 10 in the first half.
For a defense, the issues go hand-in-hand. A good running game can put offenses in easier-to-convert short yardage situations on third downs.
"The better you play the run, the more you're going to have the third-and-8, 9, 10 categories as opposed to the third-and-short," defensive coordinator Dom Capers said. He did like how the defense adjusted and improved in the second half of the 31-23 victory.
The Bears and Packers might have the oldest rivalry in the NFL, but it might as well have been a nonconference game for Green Bay in terms of preparation because of the new coaching staff and systems in place for Chicago. The defense was also minus three starters for most of the game.
--Defensive lineman Letroy Guion was suspended for the first three games of the season for violating the league's substance abuse policy.
--Starting safety Morgan Burnett missed the game with a calf injury.
--Starting inside linebacker Sam Barrington left the Bears game early with an ankle injury.
All three players would have shored up the run defense.
In Barrington's place was Nate Palmer, a converted outside linebacker who took most of his snaps in preseason camp alongside Barrington while Matthews sat with injuries. Capers said Palmer did a "commendable job" on Sunday.
"It's one of those things. You're on the road. It's the opening game. The guy who has been kind of the quarterback of your defense, you lose him early," Capers said.
Still, the Packers are not using any of these reasons as excuses.
"We need to do a better job" with tackling, McCarthy said. "It's really the fundamentals of the game are what we spent a bunch of time on today talking about and emphasizing . . . That's where we can make our improvement."
Notes: McCarthy was waiting on more test results on Barrington's ankle. "He'll be hard-pressed to make practice on Wednesday," he said. . . . WR Randall Cobb, who caught a 5-yard touchdown pass against the Bears, said he felt good after playing for the first time since spraining his right shoulder in a preseason game on Aug. 29 against the Eagles. Asked if he was a decoy, Cobb "Not that I know of. Maybe they were using me as a decoy and I didn't know about it."