Kevin Durant never promised Thunder players he was returning to team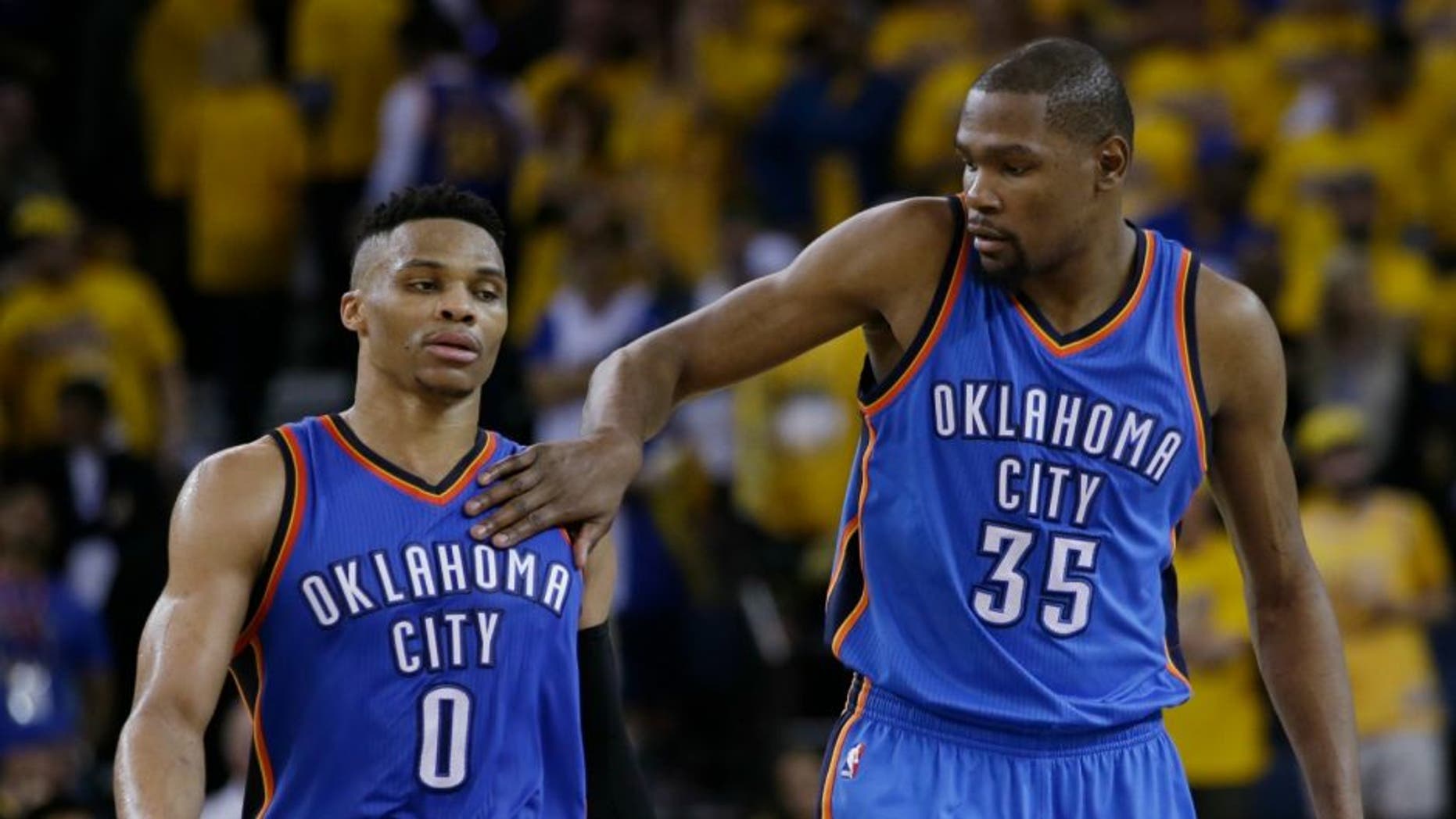 Ever since Kevin Durant signed with the Golden State Warriors, "he said, she said" rumors have flown around the internet regarding what Durant may or may not have pledged to his Oklahoma City Thunder teammates before ultimately deciding to leave them at the altar early on the morning of July 4th.
On Thursday, Durant spoke with Shams Charania of The Vertical and cleared the air -- claiming he never made a promise to Russell Westbrook, Nick Collison, or any of his other Thunder teammates.
"It's false," Durant told The Vertical on Thursday. "I didn't say that --€" words about me telling Russell or Nick that I would stay or leave never came out of my mouth. We met as teammates, but no promises came out of it. In this day and age, I can't control anything people claim out there. Someone can go out and say something random right now, and people will believe it.
"I never told Russell or Nick [Collison], 'All right, guys, I'm coming back to the Thunder' --€" and then a week later, I decide not to. Never happened. I don't operate like that. I heard people say that story, but it's not the truth. There were never promises given in a meeting before July ... I went through the process."
And on how he thinks he'll fit in on an already championship-ready Golden State Warriors roster:
"I'm not coming into a team where a guy is playing my position and we have try to fit in two guys playing the same position. I'm not coming in trying to play the point guard, trying to play the shooting guard. I'm a small forward. The team didn't have a small forward when I signed. Steph, Klay, Draymond, the bigs, we all play different positions.
"Whether it's minutes, shots, opportunities, any good team will have players sacrificing. That's the nature of the game. I'm not coming into a game saying that I need my 18 shots and I need to get to the line 12 times. I let the game flow naturally."
Well, there you have it -- Kevin Durant, per Kevin Durant, is free of NBA free agency perjury. Don't let this sour the hype that will surround Durant's first game against his old team. Russell Westbrook has plenty of other reasons in the bank to drop a quadruple-double, with one of the four double-digit box score columns being poster dunks on his former wingman's head.