Keuchel: 'I'd much rather get a World Series ring than a Cy Young Award'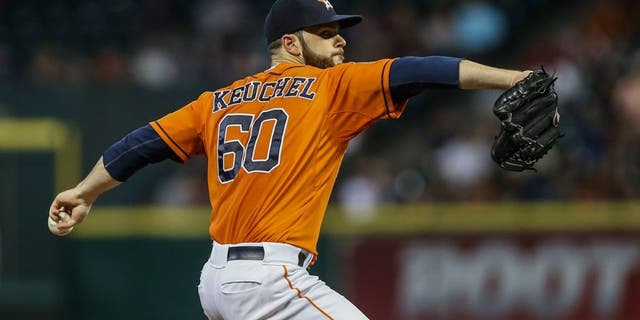 NEWYou can now listen to Fox News articles!
On Wednesday, Houston Astros ace Dallas Keuchel was named the AL Pitcher of the Month - the third time this season he's been given that honor after going back-to-back in April and May.
While such an award is nothing to scoff at, Keuchel basically intimated to Jose de Jesus Ortiz of the Houston Chronicle on Wednesday that he has his eye set a bit higher: "It just means we have another month of the regular season. I'd much rather get a World Series ring than a Cy Young Award. I'm going to continue to strive for that, and I think everybody is as well."
A tough outing by Sonny Gray of the Oakland Athletics on Wednseday allowed Keuchel to reclaim the AL's lowest ERA at 2.24 to go along with his 16-6 record. Gray is considered a candidate for the Cy Young, though at this point it's hard to argue against Keuchel's resume.
In speaking with Ortiz, Keuchel also paid due respect to the Astros' catching corps and the defense behind him - after all, he coaxes hitters to hit a ton of balls on the ground: "It's nice to pitch well, but none of this would have been possible if it wasn't for the defense and Hank (Conger) and Jason (Castro) starting it off."
The Astros are clinging to just a two-game lead in the AL West, continuing to fight off the Texas Rangers and, below them, the Los Angeles Angels, so Keuchel will no doubt be as focused as ever over the final few weeks of the regular season.