Kessler helps USC hang on vs. Colorado for 4th straight win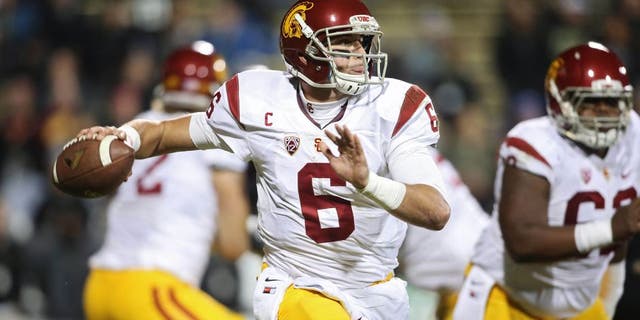 BOULDER, Colo. -- Cody Kessler threw three touchdown passes in the second half, Adoree' Jackson blocked a field goal to set up a score and Southern California hung on to beat Colorado 27-24 on a frigid Friday night for its fourth straight victory.
Trailing by two touchdowns to a 16-point underdog, the Trojans (7-3, 5-2 Pac-12) woke up on offense and scored 24 straight points. It was their 10th straight victory over Colorado (4-7, 1-6).
Kessler gave the Trojans their first lead on a 2-yard pass to tight end Taylor McNamara late in the third quarter. The defense preserved the win by forcing a fourth-down incompletion on Colorado's final possession with 1:59 remaining.
Colorado turned to freshman quarterback Cade Apsay when Sefo Liufau left with a sprained foot in the second quarter. Apsay finished with 128 yards and two TD passes, including one to Nelson Spruce. It was Spruce's 22nd scoring catch of his career, tying him with Scotty McKnight for most in school history.
At kickoff, the temperature was 41 degrees and dropped into the mid-30s by the second half. Not exactly SoCal sort of weather. The Trojans are 12-8-1 in cold conditions, which the school defines as anything that significantly impacts a contest.
USC has dominated this series since Colorado entered the conference in 2011, outscoring the Buffaloes by a 195-80 margin entering the game. But this one was much closer.
Seemingly in control at 27-17 in the fourth quarter, USC surrendered a 45-yard punt return from Spruce to set the Buffaloes up the near the goal line. Apsay connected with George Frazier for a 1-yard score, which energized the crowd.
But Southern Cal's defense rose to the occasion. The Trojans finished with six sacks and forced a Christian Powell fumble that set up Kessler's strike to McNamara.
Jackson preserved the USC lead early in the fourth quarter when he sprinted around the edge and blocked Diego Gonzalez's 51-yard field goal attempt. Jackson scooped it up and raced 16 yards to the Colorado 36.
On the next play, Kessler hit JuJu Smith-Schuster for a TD.
Phillip Lindsay scored on a 4-yard run midway through the first quarter to give Colorado a 7-3 advantage. That was significant because it was the first time the Buffs have had a lead in a game against USC since Nov. 4, 2011.
It was the final home game for Larry Zimmer, the voice of Colorado football for 42 seasons. Over his career, he's described such momentous moments in Colorado history as the fifth-down play at Missouri during the Buffaloes' 1990 national championship season and what's become his signature call: the Hail Mary catch by Michael Westbrook at Michigan in 1994.
Zimmer was presented with a framed jersey after the first quarter on what happened to be his 80th birthday.
"The 42 years as I look back on it isn't as amazing to me as that at 80 years old, I'm still doing it," Zimmer said.