Kesler named 2016-17 Selke Trophy finalist along with Bergeron, Koivu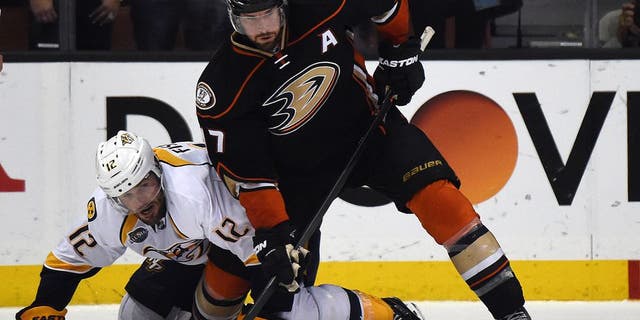 Anaheim Ducks center Ryan Kesler has been named one of the three finalists for the 2016-17 Selke Trophy as the NHL's best defensive forward. And unless you've been under a rock or are a Canucks fan, the announcement wasn't a surprise.
Playing on the Ducks 'shutdown' line with wingers Andrew Cogliano and Jakob Silfverberg, Kesler is tasked with blanketing the opposing team's best line on a nightly basis. And while his defensive play buoyed the Ducks to a fifth-straight Pacific Division title, Kesler was no slouch on the offensive side of the puck as well. The center posted 22 goals and 56 points on the season in route to his second-career NHL All-Star appearance.
Joining Kesler as finalists are Boston's Patrice Bergeron and Minnesota's Mikko Koivu.
Kesler won the Selke Trophy on one previous occasion(2010-11 with the Canucks) and been a finalist for the award now five times. He joins Samuel Pahlsson as the only other Ducks player to be named a finalist.
The winner will be announced June 21 at the NHL Awards in Las Vegas.