Kershaw continues mastery of Rockies, wins ninth straight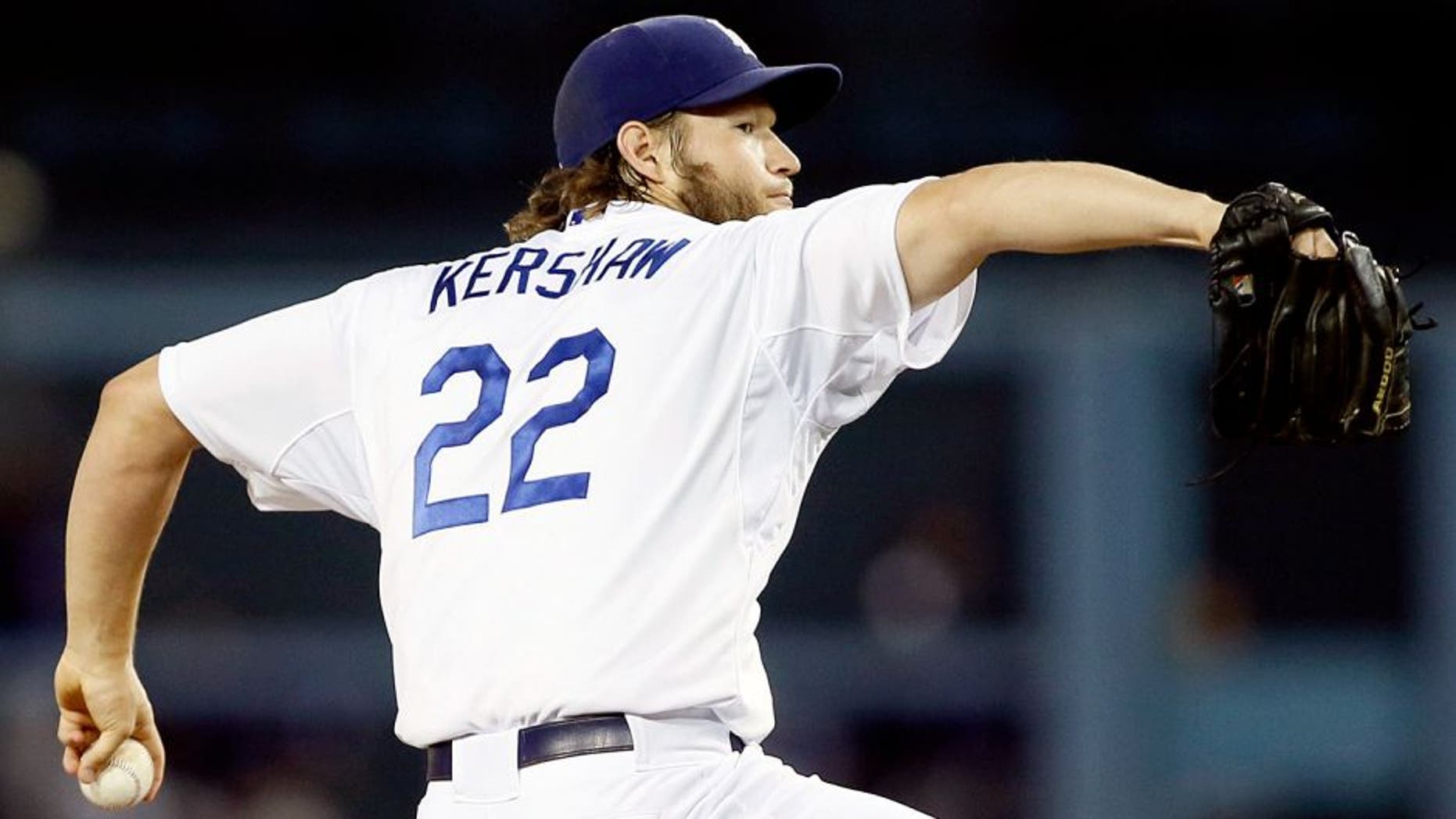 The Colorado Rockies stung the ball consistently against Clayton Kershaw, yet managed only three hits through his seven innings on the mound.
That's the way it's been for manager Walt Weiss' team against the three-time NL Cy Young Award winner going back to the 2013 season.
Kershaw won his ninth straight decision, Justin Turner hit a tiebreaking double and rookie Scott Schebler homered to lead the Los Angeles Dodgers to a 4-1 victory on Monday night.
"They had a great game plan. I give them a lot of credit," Kershaw said. "They had a lot of lineouts. They were hitting balls hard right at guys pretty hard all night. I was fortunate to get out of there with a win."
The Dodgers, kicking off a 10-game homestand following a 7-3 road trip, won for the 16th time in 20 games. They reduced their magic number to 12 for clinching their second straight NL West title.
Kershaw (14-6) yielded a run and struck out five, raising his major league-leading strikeout total to a career-high 264 and lowering his ERA to 2.12. The reigning NL MVP hasn't lost since June 27 at Miami.
Kershaw is 9-0 with a 2.48 ERA in his last 10 starts against the Rockies, including a no-hitter. His last loss to them was on July 12, 2013.
"He throws his pitches exactly where he wants to, throws balls in the dirt when he needs to so he can get people to chase. It's really good stuff," Dodgers rookie shortstop Corey Seager said. "We saw a lot of people buckling tonight, especially righties on his curveball. It's fun to watch."
Chris Hatcher got three outs for his third save. Schebler gave him a couple of insurance runs to work with in the eighth with a two-run homer after he struck out his previous two times up.
"It couldn't get much worse than the previous couple of at-bats. I was taking strikes right down the middle and swinging at stuff at the dirt," Schebler said. "So I pretty much told myself to calm down. I wanted to see if I could get a pitch up, and he threw one up for me."
Jon Gray (0-1) allowed two runs on six hits and struck out eight in his in his eighth big league start, after seven no-decisions. He came in tied for the major league record of consecutive no-decisions by a starter at the beginning of a major league career, which was set by Angels righty Al Levine.
"I don't think I've ever faced eight lefties before in a lineup before, so it was going to be a tough one coming in -- one that will help me grow a lot," Gray said.
Turner, the only right-handed batter in the Dodgers' starting lineup, chased Gray with his run-scoring hit. He is 21 for 49 with 11 doubles and 14 RBIs in his last 19 games against the Rockies since Sept. 15 of last season.
Carlos Gonzalez drove in Colorado's run with a first-inning groundout after a walk to DJ Lemahieu and a double by Nolan Arenado, whose 78th extra-base hit tied Toronto's Josh Donaldson for the major league lead.
Yasmani Grandal tied it in the second with a sacrifice fly. He ended a hitless drought of 37 at-bats with a leadoff single in the sixth.
Seager, meanwhile, is 16 for 37 with seven extra-base hits in 11 games since making his big league debut on Sept. 3. He has been filling in for shortstop Jimmy Rollins, who wasn't in the starting lineup for the seventh straight game because of a jammed knuckle on his right index finger.
"I'm just getting good pitches to hit right now, putting good swings on them, and they're falling in. So I can't complain," Seager said after his Dodger Stadium debut.
TRAINER'S ROOM
Dodgers: LF Carl Crawford was held out of the lineup for precautionary reasons because of a hamstring problem, and probably won't start again until Friday because the Rockies are starting left-handed pitchers in the final two games of the series.
UP NEXT
Rockies: LHP Chris Rusin (5-8) has only two victories in his last 13 starts overall, both of them complete games at Coors Field.
Dodgers: LHP Brett Anderson (9-8) spent last season with the Rockies, going 1-3 with a 2.91 ERA in eight starts before the club bought out the one-year option in his contract in November.