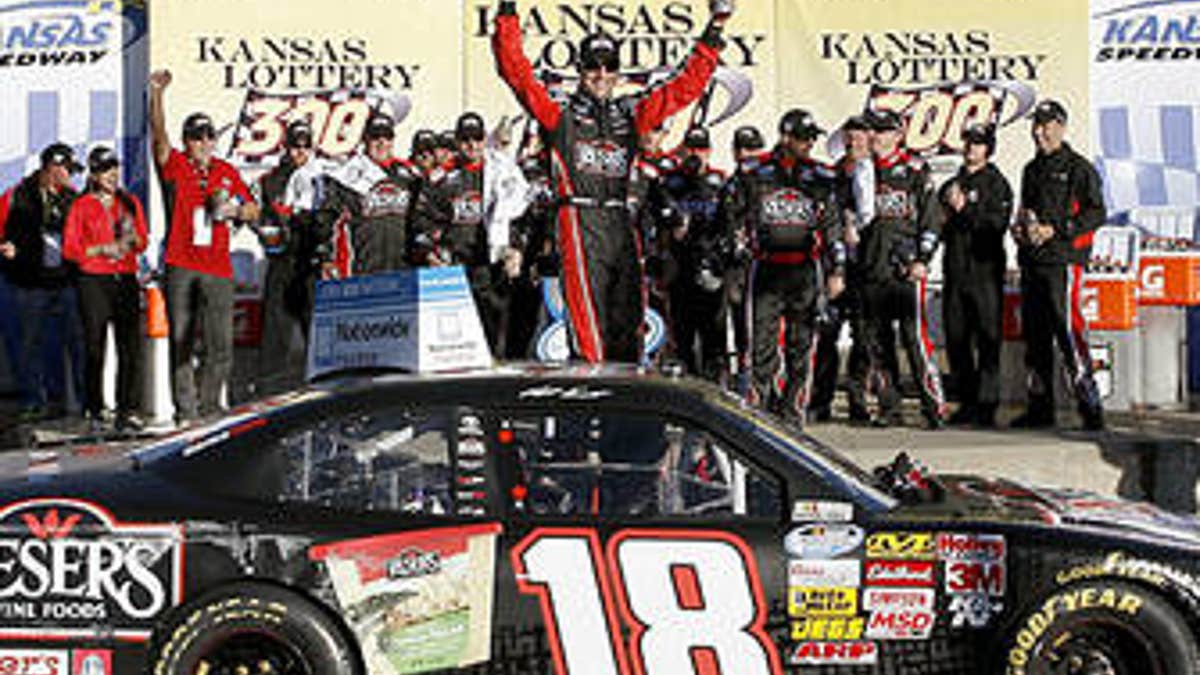 Matt Kenseth is proving to be unbeatable at Kansas Speedway.
The winner of the last two Sprint Cup races at the track, Kenseth hopped into his Nationwide car and drove it to victory Saturday, taking advantage of a late-race wreck involving Brad Keselowski and Kyle Busch to conserve enough fuel for the end.
Kenseth crossed the finish line well ahead of Paul Menard, who got around Regan Smith on the final lap to take second. Busch finished fourth and Justin Allgaier was fifth.
Kenseth held on despite worn tires for his second Nationwide victory of the season. He'll try to extend his lead in the Chase for the Sprint Cup championship on Sunday.
Austin Dillon finished sixth to take over the points lead from Sam Hornish Jr. with four races left in the season. Dillon had trouble all afternoon with a blistering left front tire, but that was nothing compared to the mess that Hornish got himself in.
He was among several drivers who slapped into the outside wall, sustaining heavy damage to the right side of his car. Hornish lost a handful of places in the pits late in the race.
Dillon will carry an eight-point lead into next weekend's race at Charlotte.
It was shaping up to be a three-way race between Sprint Cup regulars when Keselowski and Busch, both trying to chase down Kenseth, got together along the front stretch.
Busch claimed that he got tight coming off the final corner and his nose got into the rear corner of Keselowski, backing into the wall. Keselowski jumped out of his car and, rather than hop into the ambulance, jogged over the grass toward pit road. He gestured wildly at the crew of Busch before finally running to the infield care center.
The wreck shook up the ownership race. Keselowski's No. 22 car of Penske Racing had a 28-point lead over Busch's No. 54 car for Joe Gibbs Racing coming into the weekend.
It could also throw some drama into the Chase.
Busch is third in the standings and just 12 points back of Kenseth, while Keselowski -- the defending series champion -- is not involved. Keselowski seemed to indicate he may pull some shenanigans by saying afterward, "He has a lot more to lose than I do. I guess that's the good thing about not being in the Chase."
Parker Kligerman, Brad Sweet, Trevor Bayne and Elliott Sadler rounded out the top 10 in a race that was filled with cautions. There were 11 in all.
All the yellow flags left teams to choose among several pit strategies when Keselowski's wreck brought out the final one. Smith elected to take four tires, most of the rest took two, but Kenseth had already put on his final set of tires and remained on the track.
It turned out that he had enough tread -- and enough fuel -- to hold on for the win.