Kenseth survives chaotic day in good car, but not a great one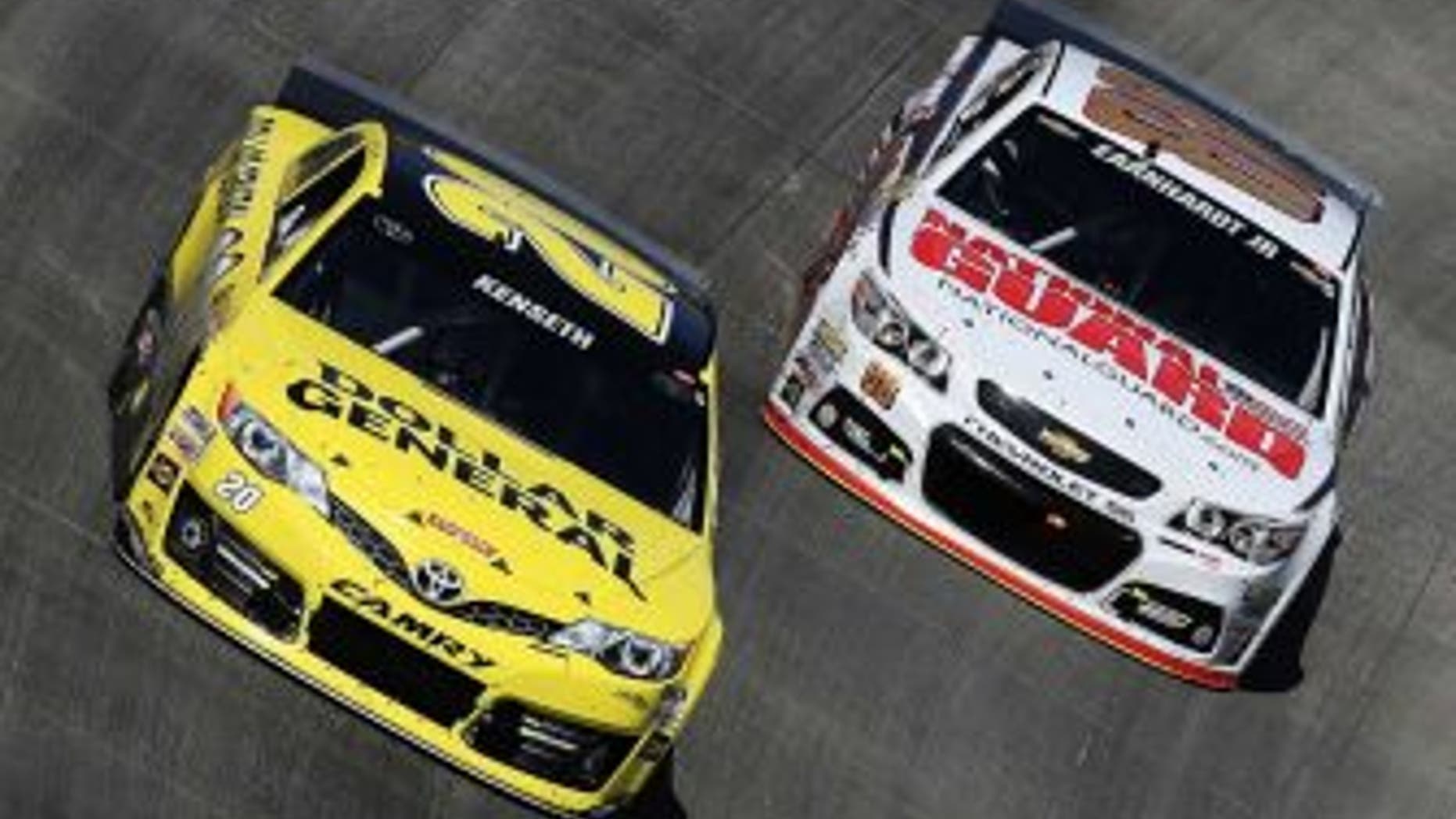 Matt Kenseth had a really good car in Sunday's FedEx 400 benefitting Autism Speaks at Dover International Speedway.
The only trouble is, Jimmie Johnson had a great one.
Kenseth was able to lead 17 laps around the Monster Mile in his Joe Gibbs Racing Toyota, but in the end had to settle for third behind Jimmie Johnson and Brad Keselowski. A good day, but not a great one.
And that's something Kenseth readily acknowledged afterward.
"It was good. I mean, I thought the 48 (Jimmie Johnson) and the 4 (Kevin Harvick) had us all day," he said. "The 24 (Jeff Gordon) at times -- all of the Hendrick cars were strong and Brad (Keselowski) got up there at the end. We had a good top-five car. I did an awful job on that last restart. Just got spinning the tires too much and the best car won. We just need to be a little bit better."
Kenseth's finish was solid considering some of the drama he dodged during the race -- just squeezing past Alex Bowman when the rookie crashed in Turn 1 in the middle of the race and then surviving a hard bump-and-run from Clint Bowyer on the final restart on Lap 397.
"So, he (Alex Bowman) blew a tire or something and I saw him blow a tire, and I was kind of running the middle and I didn't know where he was going to go," explained Kenseth, who went to the high side of Bowman and nearly got squeezed into the wall. "So I hit the brakes and locked up the left-front (tire) and then I didn't have any steering when the left front was locked up.  Yeah, that would've looked pretty stupid to drive up and go through the back of him."
As for the final restart, Kenseth said he spun his rear wheels putting the power down when he took off.
"I think they're still spinning," said Kenseth, who has a very dry sense of humor. "I'm just dumb. The 48 (Johnson) spun them, and I spun them a little bit, and I was kind of in his door and I tried grabbing third (gear) early thinking that would get it to stop spinning and it didn't, and I just needed to do a better job. I needed to let off the gas and let the rear tires quit screaming so I could get rolling."
And then along came Bowyer behind him -- and then into him.
"I was still trying to get it going," Kenseth said. "I think I was still spinning the tires in fourth gear, and Clint hit me, I guess trying to give me a push there and just destroyed our car. I think I destroyed it. I was glad to still finish after that."
"I was just trying to help him (Kenseth)," said Bowyer, who earlier in the race knocked out Kenseth's teammate, Kyle Busch.  "Man, we were all spinning like crazy and I had a pretty good run at him (Kenseth) and he was still spinning when I hit him and I knocked him into the wall and I was like, 'Not another Gibbs car.' "
The two drivers spoke afterward, but both professed to be OK with the other and not upset.
More disturbing, perhaps, is Kenseth knowing his team has work to do if it wants to race competitively with Johnson and his Hendrick Motorsports squad for wins week in and week out.
"Obviously all the Hendrick and Stewart-Haas cars have been showing a ton of speed all year long, been in position to win a lot of races," Kenseth said. "We've got to figure out how to get ahead of them."