Kenseth starts Chase with big win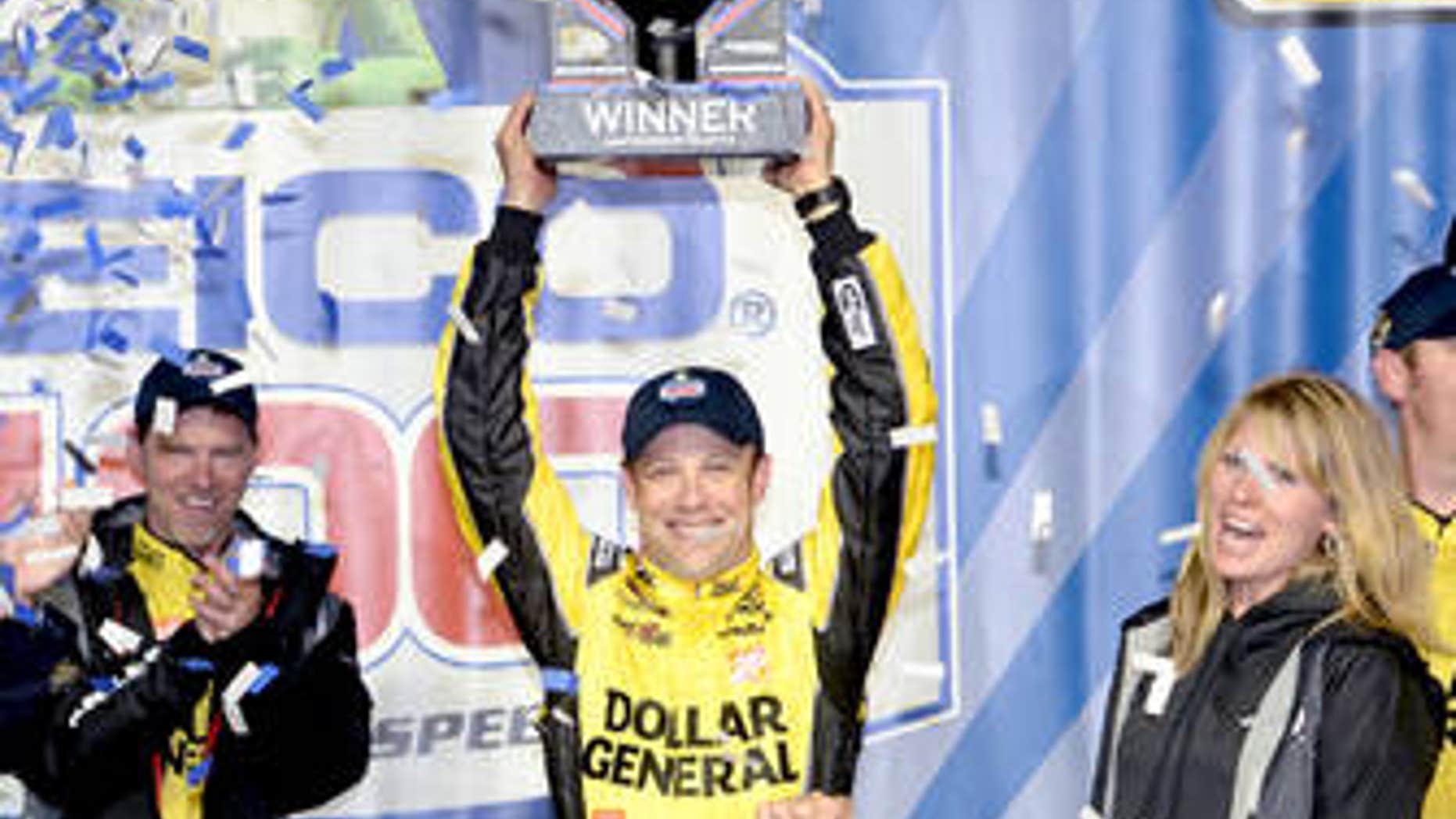 JOLIET, ILL – Does winning Sunday night's race bode well for Matt Kenseth?
The past two winners at Chicagoland Speedway have gone on to win the Chase for the Sprint Cup. Why not the driver of the No. 20 Joe Gibbs Racing Toyota?
After entering the first race of the Chase with the points lead, Kenseth had a solid run, led 89 laps and posted his first career win on what the Wisconsinite considers his hometown track.
"It's a record win for me, and I'm the same driver. It's all about you guys; you make me look good every week," Kenseth told his crew after he posted a career-best sixth victory of the season. "Thanks guys. That was fun."
Replied crew chief Jason Ratcliff: "Thank you, buddy. You're making all of our dreams come true."
Kenseth held off Kyle Busch by 0.749 seconds to earn an eight-point lead in the points standings over his Joe Gibbs Racing teammate.
Kevin Harvick, Kurt Busch and Jimmie Johnson rounded out the top five. Jeff Gordon, who was added to the Chase by the executive order of NASCAR chairman Brian France, finished sixth.
Kenseth led 26 of the first 108 laps before a rain stoppage. After a 5-hour, 10-minute delay, he maintained the point, momentarily lost it to Brad Keselowski under yellow then took the lead for an additional 35 laps before the fourth caution for Justin Allgaier's spin on Lap 148.
Kenseth cycled out 13th, on the Lap 153 restart but quickly worked his way to front. By Lap 244, Kenseth was back in command of the race and led that final 23 circuits to the finish.
After one of the most brutal weeks for NASCAR as officials sorted out race manipulations at Richmond, Kenseth felt relieved to simply fly under the radar while the dust settled.
"I wasn't involved in any of it, so I kind of enjoyed that," Kenseth said. "It seemed like we came in as the first seed, which was really great, but we were in the shadows all week with everything going on. I was all right with that. We had a lot of space to work on our cars, talk about things, go do all that.
"Anyway, glad it's behind us. Hope we can move on. I think it's been a tough week for not only some of the teams and stuff involved, but it's a tough week for NASCAR. They don't want to do any of that stuff. I don't think they do. That part of it hasn't been any fun for anybody."
For Kenseth, who has won at four of the intermediate tracks earlier this season and faces four additional mile-and-a-halves in the next nine races, the No. 20 team has to be considered a top contender for his second Sprint Cup.
His teammate Kyle Busch is a believer.
"Matt is really, really good at mile-and-a-half racing," Busch said. "He is fast. He's won a lot of them this year."
In 2011, Tony Stewart won this race and vaulted to the title. Ditto Brad Keselowski last year. But does Kenseth believe that winning Chicagoland is a precursor to the title?
"No," Kenseth said with a laugh. "It matters. Every single point, every position is equal from here until the last lap at Homestead. You want to get as many points as you can get each and every week, and we did a great job of that this weekend.
"So you want to enjoy this, but go to work on New Hampshire tomorrow and try to win there and kind of take it one week at a time."
Pit road problems
Several Chasers experienced pit road issues on Sunday night.
Kurt Busch was the first driver to get tagged when he was busted for speeding on Lap 77. After a pass-through penalty on Lap 80, he dropped to 33rd but made a miraculous fourth-place recovery.
Jimmie Johnson had two pit crew miscues, the first under green-flag stops when his right rear tire changer missed a right rear lugnut, forcing Johnson to have a 17.7-second stop. The crew experienced a 24-second stop on Lap 149 after the jack broke in the middle of pit service. Although Johnson restarted 22nd, by Lap 207 he was back to fifth, where he finished.
Greg Biffle never recovered from running over an air hose in his pits on Lap 149. After serving a "tail end of the field penalty," Biffle restarted 31st. He climbed back to 16th and dropped to 11th in the points standings.
"That was a rough night," Biffle said. "We had major issues in the pits. I don't know what happened."
Socializing
Ricky Stenhouse Jr. used the rain delay to make a fast-food run to Sonic.
Hey u want a #chilidog from here @ClintBowyer ? I had to make a food run #outoffood #raindelayproblems pic.twitter.com/821KQGRyU3
-- Ricky Stenhouse Jr. (@StenhouseJr) September 15, 2013
Which caught the attention of Jimmie Johnson:
I'll take a shake. @StenhouseJr : Hey u want a #chilidog from here @ClintBowyer ? I had to make a food run #outoffood pic.twitter.com/FNbz22ExP8
-- Jimmie Johnson (@JimmieJohnson) September 15, 2013
The reply:
@JimmieJohnson haha ill take ur setup...
-- Ricky Stenhouse Jr. (@StenhouseJr) September 15, 2013
I guess I don't need that shake then. ;) " @StenhouseJr : @JimmieJohnson haha ill take ur setup..."
-- Jimmie Johnson (@JimmieJohnson) September 15, 2013
Numbers game
109: Laps were run before the rain delay.
25: lead changes among 16 drivers.
7: Engine failures out of 43 cars.
Say what?
Although race winner Matt Kenseth mentioned something was wrong with his engine midway through the race, what was really going on?
"Nothing," Kenseth said. "I was just seeing if anybody was listening."
"I was," replied team owner Joe Gibbs. "I had a slight coronary on that one."