Kenny Wallace survives 2 spins, salvages solid night in final start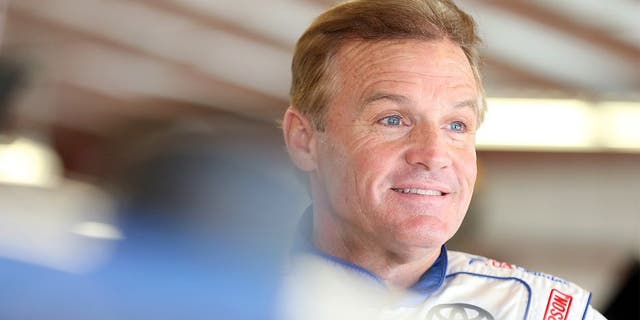 NEWYou can now listen to Fox News articles!
This wasn't exactly the going-away party Kenny Wallace had in mind, but the veteran driver made the most of a challenging final XFINITY Series start in Saturday night's U.S. Cellular 250 at Iowa Speedway.
Wallace, a FOX Sports TV personality making his 547th appearance in NASCAR's No. 2 division, finished 15th and on the lead lap after surviving two spins not of his own making.
Starting seventh in the No. 20 Toyota of Joe Gibbs Racing, Wallace quickly faded to 12th position but was running 11th when contact with Darrell Wallace Jr. on a restart with 41 laps to go resulted in a spin and left the No. 20 machine with front-end damage.

After coming to pit road under caution for repairs, Kenny restarted 19th as the last driver on the lead lap with 36 to go. After picking off several spots, trouble struck again on Lap 249 when Wallace, who had slowed to avoid the spinning car of Darrell Wallace Jr., was hit from behind by Ryan Reed and went for yet another spin -- this one in Turn 3.
Again avoiding any significant damage, the younger brother of NASCAR Hall of Famer and 1989 Sprint Cup Series champion Rusty Wallace managed to bring it home with a respectable finish in a wild final outing.

"It was exciting. Obviously, I'm not going to be upset over a hard-earned, 15th-place finish," said Wallace, who made his NASCAR debut driving for the late Dale Earnhardt in 1988, and went on to score nine XFINITY Series victories, 66 top fives and 173 top 10s.
"You know, it was just a deal where everything was going good -- what were we, like ninth, 13th all night -- and it looked like and we were going to close in on a good finish, but as normal short-track racing, the horns came out at the very end. No excuse -- (I was) running along in the middle of the race there and I felt something hit my left side leg, and lo and behold my left side spot mirror fell out."
Wallace was more concerned after the race about the bump from Reed that sent him spinning when he slowed up to avoid Darrell Wallace Jr.'s spinning car on what was scheduled to be the next-to-last lap.
"I just chewed Ryan Reed's butt out," Wallace said. "I said, 'Buddy, next time you spin somebody out like that, don't pass me up.' He was going to walk right past me on pit road, so I try to give those young kids a little bit of information. I said, 'When you spin somebody out, you stop.'
"I'm going out trying to give advice and I'm not whining and crying about nothing -- (Dale) Earnhardt taught me. The only bummer is I can't go back and get him next week."
Throughout the course of the night, many in the NASCAR community turned to Twitter to offer a grateful Wallace their heartfelt well-wishes and congratulations on his final race.
Here are a few of the best tweets: