Kelvin Gastelum wants Anderson Silva at FOX UFC Fight Night in New York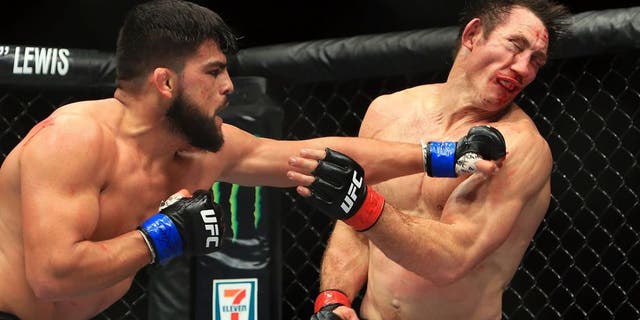 Kelvin Gastelum won't be cleared to fight at UFC 212 in Brazil, but he hasn't forgotten about his previously scheduled matchup with former middleweight champion Anderson Silva.
Gastelum was pulled off the June 3 card in Rio de Janeiro following a positive drug test for marijuana following his last fight with Vitor Belfort in March.
As of yet, USADA (United States Anti-Doping Agency) hasn't officially cleared Gastelum to return to action yet but it certainly appears that he expects to be back in action sooner rather than later.
Gastelum took to Twitter on Thursday to ask Silva to renew their fight at a later date specifically the upcoming FOX UFC Fight Night card headed to the Nassau Coliseum on July 22.
"My apologies and respects to Anderson Silva, I can't make it to the dance in Rio, how about we dance in New York in July?" Gastelum wrote on Twitter.
Gastelum has been on a tear since moving to the middleweight division with two consecutive TKO's over Vitor Belfort and Tim Kennedy in his most recent fights.
As of yet, the UFC hasn't announced main event for the card in July, and a showdown between Gastelum and Silva could fit the bill for a potential headliner for the first event on Long Island.
Meanwhile, Silva expressed his discontent with the UFC in a recent interview where he demanded an interim title fight against Yoel Romero or he may retire from the sport altogether.
Of course, Silva previously accepted a fight with Gastelum in June so now perhaps he can be drawn back into the same bout just at a later date in July.