Kelley, Rivero two fantasy baseball replacements for Papelbon (DL)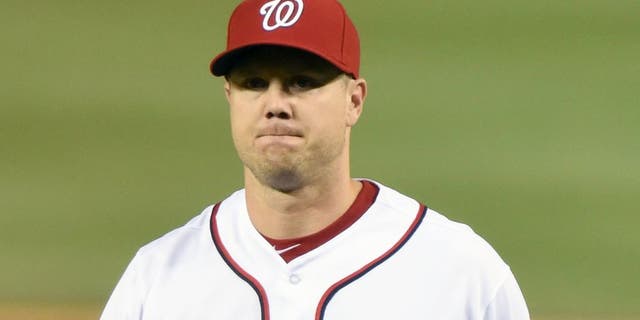 NEWYou can now listen to Fox News articles!
The Nationals have placed Jonathan Papelbon on the 15-day disabled list with an intercostal strain. Fantasy owners of the mild-mannered closer had enjoyed 16 saves over the first two-and-a-half months. With the Nats atop the National League East standings, Papelbon on the shelf creates a small window of opportunity for those chasing roto saves.
Here are the top two options: Shawn Kelley and Felipe Rivero. The 32-year-old Kelley picked up a five-out save on June 13 and currently carries a 2.70 ERA and 13.11 K/9 in 23 innings pitched. The 24-year-old Rivero finished the 2015 season with a 2.79 ERA (3.44 xFIP) and 8.01 K/9. This year his ERA has inflated to 5.46, but the xFIP is 2.93 with an 11.89 K/9 and team-high 12 holds in 28 innings pitched. Popular opinion is Kelley will get first crack and I would tend to agree, but in deeper mixed and NL-only leagues, I think Rivero is worth a shot, too. It's not that I'm on the fence, it's that I truly believe the Nationals want to see what the young arm can do in pressure situations.