Kasey Kahne insists his No. 5 Hendrick team is 'going in the right direction'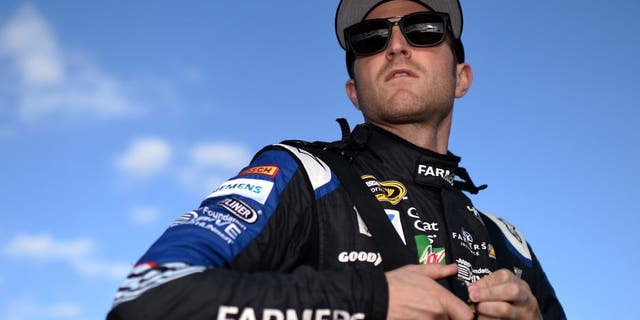 Over the last few seasons, Kasey Kahne's career hasn't exactly been following an ideal trajectory. And yet the Hendrick Motorsports driver remains bullish on his chances of having a strong 2017 campaign.
In 2012, his first year driving the No. 5 Hendrick Chevrolet, Kahne won two races, had 12 top fives and finished fourth in points.
In the last three seasons combined, though, Kahne has just one victory, nine top-five finishes and an average points finish of 16.63, missing NASCAR's playoffs in each of the last two seasons.
Still, like his Hendrick teammates, Kahne's performance increased notably over the final 10 races of 2016, when he had eight finishes of 13th or better, including a third-place run at Charlotte Motor Speedway in the fall race there.
And those runs, Kahne said, are cause for legitimate optimism.
"Where we started (the 2016 season) -- consistent 18th to 20th -- was not anything that we wanted and after the last 12 to 14 races we were eighth to 10th, so that jump, that consistency that we showed throughout the whole season for the speed of the car I thought was good," said Kahne.
For a racer, though, good is never really good enough.
"We are working hard to make another jump because eighth to 10th isn't where we want to be either," Kahne said. "Definitely, a lot of progress from where we were the first half of the season to where we ended; we can only build on that."
Kahne is also encouraged by what his teammates did last year: Jimmie Johnson won his seventh NASCAR Premier Series title, while Chase Elliott was one of two rookies to make the playoffs, the first time since 2006 a first-year driver competed for a title.
"A lot of it has to do with the way we finished last year, the progress of the company and the progress of our team," said Kahne. "What Jimmie Johnson did; what Chase Elliott did; those things to me were key and they were highlights. Our No. 5 team did the same, we made a lot of gains and we were much stronger the last 12 races of the season."
With that in mind, Kahne is ready for the 2017 Monster Energy NASCAR Cup season to get going.
"Since Monday after Homestead I have been with Keith (Rodden, crew chief)," said Kahne. "I've been with our engineers and all of us as a team, from the pit crew side to the road guys, the guys building the cars, we have been a team and we have been working to progress in those same areas that we made the gains in.
"We have had a couple of months to do that, so I feel like that is a lot of hard work. Everybody is working hard, but for us we are going in the right direction and it is going to show this year and I'm looking forward to that."