Kansas City Royals signal interest in star college pitcher convicted of child sex abuse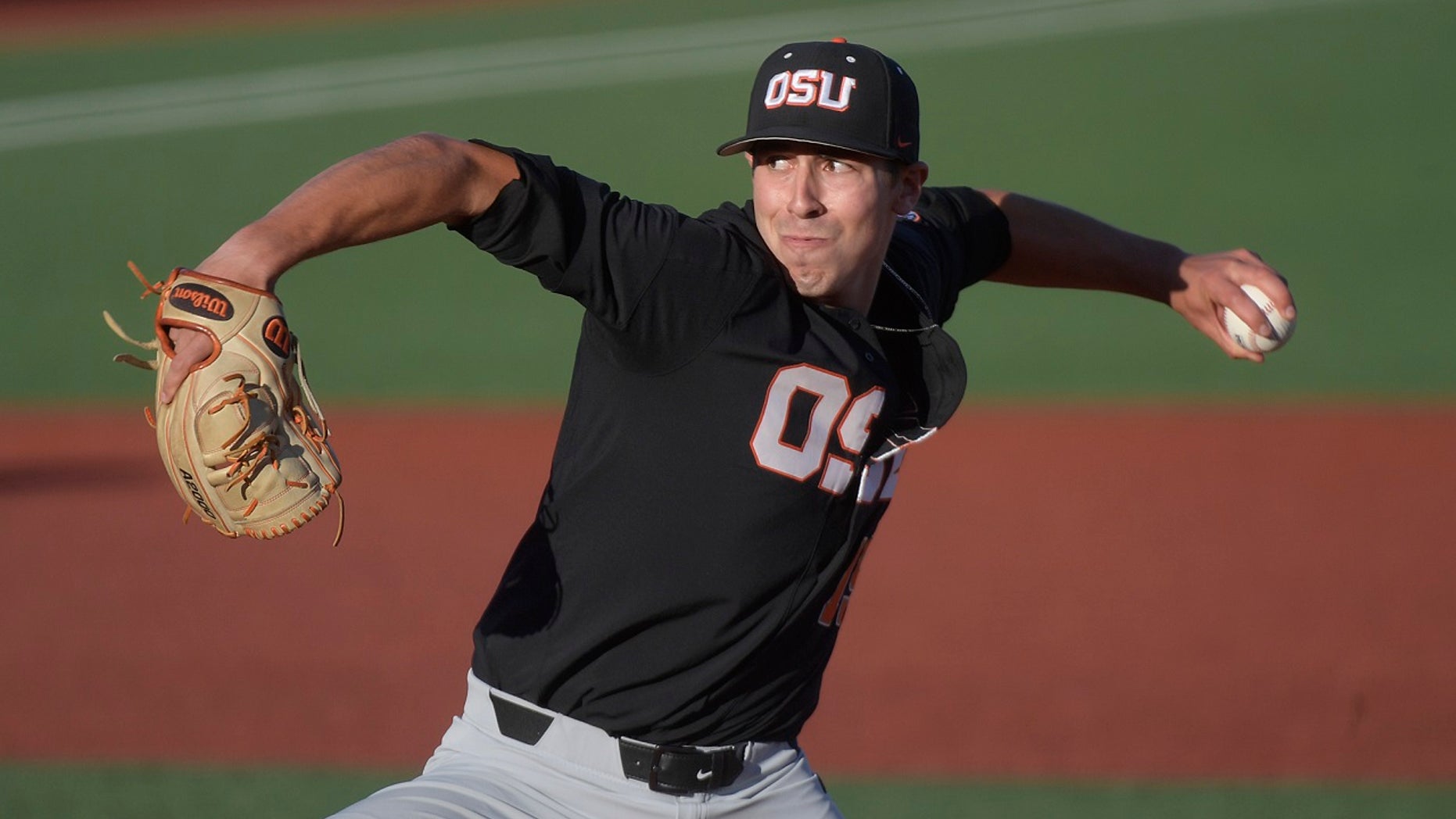 The Kansas City Royals raised eyebrows across the baseball world this week as General Manager Dayton Moore said the organization was looking into signing Oregon State pitcher Luke Heimlich, who had pleaded guilty at age 15 to sexually abusing his 6-year-old niece.
"We continue to seek information that allows us to be comfortable in pursuing Luke," Moore told the Kansas City Star, adding "We're an organization that has constantly given players second and third chances."
Heimlich, 22, is considered one of the best pitchers in college baseball and has helped the Beavers to the final of the College World Series in his senior season.
However, his major league prospects took a major hit last year when the Oregonian newspaper disclosed his 2012 guilty plea. At the time, the paper said it had discovered the conviction while running a background check on him for an in-depth profile.
Heimlich repeatedly maintained that he pleaded guilty to spare his family the ordeal of a trial and has since denied any wrongdoing.
The Pullyap, Wash., native initially was charged with two counts of molestation. He ultimately pleaded guilty to one count of molestation between February 2011 and December 2011, a period during which he was 15. Prosecutors dismissed the other charge.
He entered a diversion program, received two years of probation and was ordered to attend sex offender treatment for two years, according to court records. He was ordered to serve 40 weeks of detention at a juvenile facility, but that sentence was suspended and he served no time because he successfully completed probation.
Heimlich has gone undrafted by a Major League Baseball team in each of the past two years, despite being considered a first-round talent. He could still sign with a major league club as an undrafted free agent, play in an independent league or overseas.
The Royals' reported interest in Heimlich did not sit well with Brenda Tracy, a rape survivor and activist who alleged she was gang-raped by four men, including three Oregon State football players, when she was a student at OSU in 1998.
"I'm sorry, but Luke does not deserve to be on that platform and pedestal, looked up to and adored by millions of people, including young kids," she told the Star this weekend. "We should never normalize, we should never minimize. If the Royals bring him on their team, they are complicit in normalizing and minimizing."
Oregon State will play Arkansas in a best-of-three series beginning Monday in Omaha to determine the national champion.
The Associated Press contributed to this report.