Kansas City Chiefs' Tyreek Hill uses camera during touchdown celebration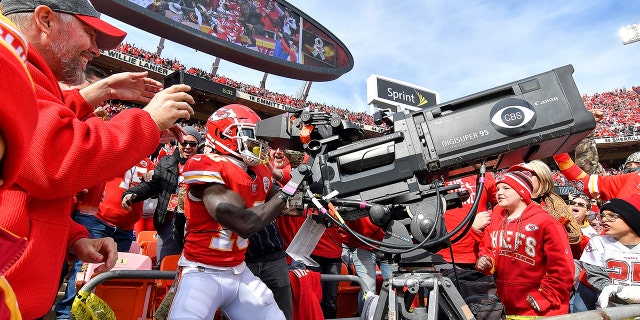 The Kansas City Chiefs' Tyreek Hill may have had too much fun after he scored his second touchdown of the game in the second quarter in Sunday's win over the Arizona Cardinals.
Hill caught a 14-yard touchdown pass from quarterback Patrick Mahomes and subsequently went into the crowd and started to use the video camera that was in the end zone.
The wide receiver was flagged for unsportsmanlike conduct, penalizing the Chiefs for 15 yards and got into some trouble with his head coach Andy Reid. He wondered after the game whether Terrell Owens or Chad Johnson did the same thing.
"Didn't one of those guys do that? That's probably why I did it," Hill said, according to ESPN.
"I've got some good camera skills. I did my thing. I'm just showing love to my teammates. I feel like my teammates deserve it all," he said.
After he was finished celebrating, Reid appeared to be unhappy with the move and cameras showed him and Hill talking on the sideline. Reid said after the game he wasn't happy.
"He stepped over the fence and then took ahold of the camera, or stepped over the wall, and yes, that was too much," Reid said, according to Arrowhead Pride. "I am all into the personality thing, but he was out of personality and out of character there."
The touchdown was Mahomes' 31st of the season. It broke a single-season team record initially held by Hall-of-Fame quarterback Len Dawson.
Hill may face a fine from the league for using a prop in his celebration. New Orleans Saints wide receiver Michael Thomas was fined $30,000 for using a cell phone as a prop last week when he celebrated scoring against the Los Angeles Rams.