Kaepernick may become a Seattle Seahawk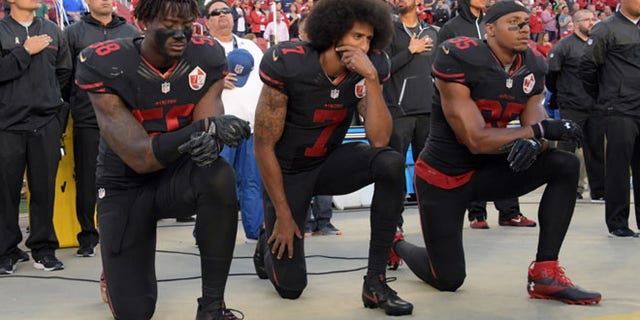 Colin Kaepernick, the former San Francisco 49ers quarterback, who made headlines last season for refusing to stand during "The Star-Spangled Banner" may be suiting up for the Seattle Seahawks next season.
Pete Carroll, Seattle's head coach, was asked Monday on ESPN Seattle about a potential backup for Russell Wilson. Some of the names listed were Kaepernick and Robert Griffin III.
"We're looking at everybody. We really are," Carroll said. "We've been tracking everything that's going on, and we've got cap and roster issues and stuff like that that we're still trying to manage properly. But quite frankly, yes, we are looking at all those guys."
Kaepernick was benched last November by former coach Jim Tomsula in favor of Blaine Gabbert. The 2011 second-round pick, less heralded than other QBs in his draft class, went on season-ending injured reserve and needed a trio of surgeries: his non-throwing left shoulder, left knee and right thumb. He hardly disappeared as a backup, instead taking his old job back last month.
And he made international headlines when he stopped standing for the national anthem in what he said was a protest against racial oppression. First he sat, then he kneeled. Others joined him.
As his team struggles, the 28-year-old Kaepernick appears as collected as any losing quarterback in the league. This is the same guy who led San Francisco to a runner-up Super Bowl finish following the 2012 season.
The Associated Press contributed to this report