Justin Nicolino allows 5 runs as Marlins bested by Brewers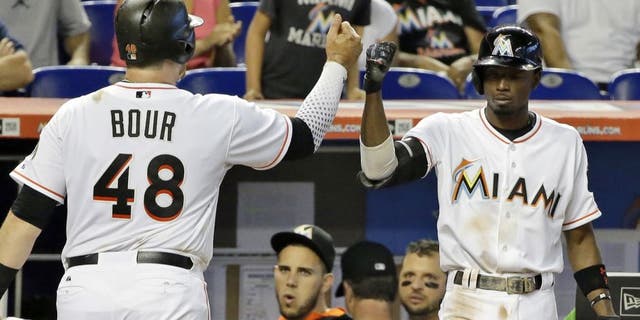 MIAMI (AP) -- Hernan Perez had three hits and three RBIs and Zach Davies earned his first major league win as the Milwaukee Brewers beat the Miami Marlins 9-1 on Monday afternoon.
Khris Davis homered and drove in two and Jonathan Lucroy had two doubles and knocked in a run for the Brewers, who have won seven of eight.
Davies (1-0) pitched seven innings, allowing one run and four hits in his second start. He struck out four.
Davies retired 11 straight batters after giving up a leadoff single to Dee Gordon.
The Brewers pounded out 15 hits, including seven extra-base hits.
Marlins manager Dan Jennings was ejected in the seventh by home plate umpire Marvin Hudson for arguing balls and strikes. It was the third ejection of the season for Jennings.
Justin Nicolino (3-3) allowed five runs and nine hits in 4 1-3 innings for the Marlins.
Davis put the Brewers on the scoreboard with a home run to right field to begin the fourth. It was his 18th of the season.
The Brewers scored five runs on five hits in the fifth to take control of the game. Jean Segura got it started with a leadoff triple and scored on Lucroy's double. Davis' base hit brought in Lucroy, and Adam Lind's RBI double pushed the lead to 4-0, ending Nicolino's outing.
Perez's two-run double off Bryan Ellington extended the lead to 6-0.
The Marlins loaded the bases in the bottom of the fifth with one out, but only managed one run on a fielder's choice by Donovan Solano.
The Brewers plated three more runs in the sixth on a double by Ryan Braun, sacrifice fly by Domingo Santana and a base hit by Perez.
TRAINER'S ROOM
Marlins: RHP Jose Fernandez (biceps strain) is expected to start on Saturday against Washington. Fernandez, who is 4-0 with a 2.30 ERA in seven starts, will play in his first game since Aug. 7. . SS Adeiny Hechavarria (hamstring) missed his fourth consecutive game and remains day to day.
UP NEXT
Brewers: RHP Taylor Jungmann (9-5, 2.42 ERA) will start Tuesday's game against the Marlins. Jungmann has won both of his last two starts while allowing one run in 12 innings.
Marlins: LHP Adam Conley (3-1, 5.02) has also won his last two starts, but has allowed six runs in 10 innings.