Junior Dos Santos respects Stipe Miocic but there's only one 'baddest man on the planet'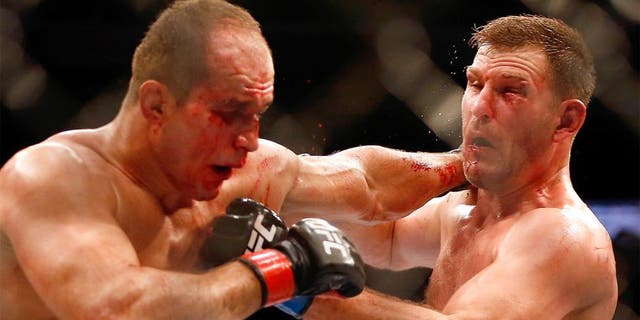 Junior Dos Santos was ready to solidify himself as the next contender in line for the heavyweight title after booking his next bout at UFC Fight Night in Halifax on Feb. 19.
Unfortunately, Dos Santos' opponent Stefan Struve fell out of the fight due to injury and the UFC was unable to secure him a new opponent in time for him to remain on the card.
Now Dos Santos has been attached to a rumored fight with heavyweight king Stipe Miocic in May and while the bout is not a done deal, the veteran knockout artist from Brazil believes this is the matchup that makes the most sense for both champion and challenger.
"The way I see it, the way the division is going now, the other guys who were supposed to be ready to fight for the title are (Fabricio) Werdum and (Cain) Velasquez. Man, they are coming from a victory over Travis Browne, who is maybe not even in the top 10 anymore. So it doesn't make sense. The right thing to do right now is to give me the title shot," Dos Santos explained when speaking to FOX Sports on Thursday.
"I already beat the champion. That's the fight for the UFC to make now. Me against him, fighting for the title no doubt. Everything is stopped right now and we need keep the division going. This is the most dangerous and exciting division in any martial arts sports so let's do it."
While Miocic has been on a roll lately, Dos Santos stands as the last fighter to hand him a loss in the UFC.
Dos Santos and Miocic slugged it out in an all-time classic affair back in 2014, which earned them 'Fight of the Night' honors while arguably putting on one of the best heavyweight fights of all time.
In the end, Dos Santos out gunned Miocic over five rounds and earned a unanimous decision victory.
Of course, Dos Santos has absolutely no bad blood with Miocic and actually holds the current heavyweight champion in high esteem, but the fact is he wants the UFC title wrapped around his waist right now.
"He's a great champion. I really like him because he's a fair fighter. I don't see him cheating or doing any crazy things. I see him as a good example to other fighters," Dos Santos said about Miocic. "But I have to tell you there is just one No. 1 in the world.
"There's just one heavyweight champion. Just one baddest man on the planet. And that one guy is myself."
Now Dos Santos understands that he's currently only riding a one-fight win streak but that victory came against Ben Rothwell, who was tearing through the heavyweight division at that time with four consecutive victories in a row including a knockout over former title challenger Alistair Overeem.
In fact, Dos Santos believes that if Rothwell had defeated him last year, he would have gone on to face Miocic in September at UFC 203 instead of Overeem, who ultimately got the shot instead.
"I've been waiting for an opponent since September. There's a lot of crazy things going on and a lot of the guys are just not considering fighting against me. Now I think the right thing to do is fight against (Stipe) Miocic, to have this title fight. Because I think I deserve it," Dos Santos said. "In my last fight, I beat a guy in Ben Rothwell who was beating everybody else, including Alistair Overeem, who fought for the title.
"If Ben would have beat me, he would have fought for the title, not Overeem. So I beat that guy and I'm think I'm coming from a solid moment in my career. I'm looking forward to that title shot."
Right now nothing is set in stone regarding Dos Santos' next fight, but he's anxiously awaiting confirmation that Miocic will face him with the heavyweight title on the line.
More than anything, Dos Santos wants the chance to reclaim the gold but adding a combustible element like Miocic to the mix only makes for another 'Fight of the Year' candidate just like their last matchup.
"As you guys know, I don't pick opponents. The thing what I want is to be champion again so if they have the title shot, if they give me the title shot that would be wonderful," Dos Santos said. "Against who, I don't care.
"If I fight Miocic that's great, because it's the kind of fight that people love to see. He's a striker, I'm a striker and we're going to bang so it would be a very interesting fight."