Josh Norman continues to rip Dez Bryant: 'It's not like he carries them'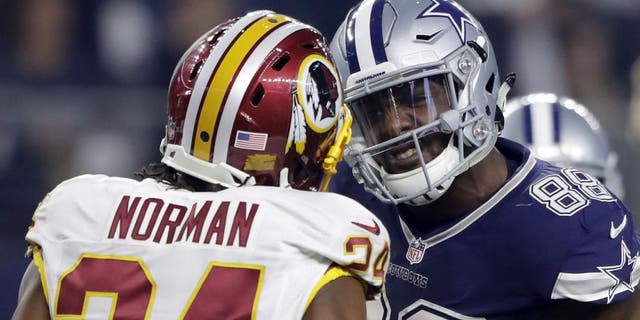 Dez Bryant and Josh Norman are two of the most outspoken, fiery players in the NFL. That was abundantly clear on Thanksgiving Day when the two went at it for much of the game, exchanging less-than-kind words about each other.
The jawing hasn't ended, however, despite being a few days removed from the heated battle.
"It just baffles me that we're going back and forth," Norman said, via Ian Rapoport of NFL Network. "I don't know if there really is anything to say. What am I going to go back and forth for? It's not a battle. It's not a competition when the other person don't show up. What am I competing against? I compete against myself every week."
Norman's comments come on the heels of Bryant calling him out for getting the best of him -- by Dez's measure, at least. He said Washington "needs to get their money back," which is almost exactly what Norman said about Bryant after last year's meeting.
Bryant also had this to say about Norman.
"I honestly feel like the guy is extremely soft. He's a bunch of talk. If he was out and about, I wouldn't dare on my life let him talk to me like that."
Norman said Bryant should "be original" after seeing Dez's claim that the Redskins need to get a refund for the money they paid to land the All-Pro cornerback. Yet, the trash talking didn't end there. Norman continued to rip Bryant for having little impact on the game.
"If you have a big impact, go off," Norman said. "But you didn't."
Norman doesn't discredit the Cowboys' success after starting 10-1 and beating the Redskins twice. He just doesn't think Bryant is the reason for their stellar season.
"But it's not like he carries them," Norman said. "They carry themselves. That stuff he does, it's just extra antics."
Needless to say, the next time these two square off, there will be plenty of jawing, trash talking and fireworks on the field. If a third showdown were to happen this season, it'd have to come in the playoffs, which is certainly possible given both teams' records.