Jorge Posada, With or Without a Glove, Still a Catch for the Yankees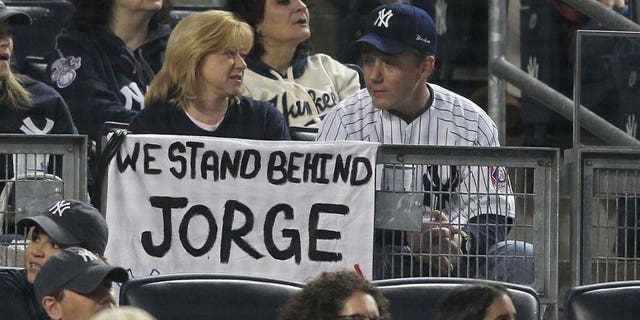 Considered one of the most important positions in baseball, the catcher manages a game from the first pitch to the 27th out, three hours plus hours later – one minute laying down a finger to call for the heater, in another signaling infielders for a potential play at the plate.
That was Jorge Posada's life for the better part of 1,500 games. Until this year, that is, when the Puerto Rican backstop was relegated to designated hitter duties.
In any sport, athletes struggle with accepting being told that they're no longer good enough at doing what they've done for years, and get passed over for someone else.
That uncomfortable transition is doubly challenging for Posada, one of the longest-tenured Yankees – and four-time World Series champion – of this generation.
"It's like being out of your house," Posada told Fox News Latino recently. "But right now, I'm not a catcher. I'm just looking for the way to stay positive since I'm not the catcher."
To be exact, Posada caught 1,573 games behind the plate, 1,450 coming as starts. And he hasn't been shy about how much he yearned to strap on the chest protector and leg guards, and cover his face with the protective mask.
"I can't tell you no, because obviously you do miss it," said Posada while weighing a new order of bats he had just taken out of a box near his locker.
The fall from grace was exacerbated this year when he got off to a slow start, hitting just .132 in April, and wasn't much better in May. He hit rock bottom during a nationally televised game – against division rivals Boston Red Sox, no less – when, after being dropped to the bottom of the lineup, he asked out of the game.
He later apologized to teammates, his manager and Yankee management, but the damage was already done.
The stormy spring continued when his son, Jorge Jr., who was born with the life-threatening illness skull deformation Craniosynostosis, underwent his ninth surgery.
June, however, brought new life – personally and professionally. The surgery for little Jorge was his last scheduled one.
"He's recuperating and I thank God everything is good. He gives me strength and encouragement," said Posada. "That boy has been through a lot but it could have been worse. But thank God it's something that can be treated and you know this was his ninth operation and thank god his last.
"We're very positive about his future," he added. "From here on out, We're looking at every positive."
On the field too, Posada's fortunes turned for the better.
He hit .382 with 3 HRs and 11 RBIs. His OPS – the statistic that combines on base and slugging percentages – was a staggering 1.007.
Still, a Yankee game without No. 20 behind home plate seems odd to teammates and fans alike.
The delicate demotion began last year when Posada caught 83 games last season and DHed another 30, while Venezuelan Francisco Cervelli caught a handful of games. During the off-season, the Yankees made the move official when Russell Martin signed on to be their regular catcher with Cervelli serving as the backup.
Posada hasn't caught a game this year, and isn't expected to do so in the foreseeable future.
Team captain Derek Jeter, himself going through a decline in production and enduring questions about whether his days are numbered at shortshop, said it took a while to get used to looking in from midfield and not seeing his one of his best buddies behind the plate.
"Well were getting used to it now. It's been all of spring training and the whole season that he hasn't been back there. But now I've gotten used to it," Jeter said.
And even though Posada isn't physically behind the plate, he still thinks like a catcher. Ever the veteran and team player, he's been willing to pinpoint things to Martin and Cervelli while offering any advice he could to make them and the team even better.
"If I see something in Russell or Cervelli and I feel like I have to talk to them, I look for the proper way to approach them and tell them what they're doing or try help them out," Posada said. "We're all here in the same boat: to get to where we need to get, and God willing that's the playoffs."
While there is still a lot of baseball left in Posada, be it in Yankee pinstripes or on another team, after his career is over he'll definitely be calling the signals full-time for the Jorge Posada Foundation.
He founded the foundation to battle Craniosynostosis, an illness that affects one out of every 2,000 births in the United States.
"There's mental support for families. There's the mental support for the mothers that go through a lot. It's a difficult operation, especially when they tell you that they're going to tell you that they have to open up the head and obviously that's something hard," Posada said. "We help out as many kids as we can that have Craniosynostosis. We help out the hospitals that perform the operations. We help out the kids that have Craniosynostosis, mentally and monetarily.
"I'm very happy the foundation has grown, and thank God we've helped out a lot of children that have the same condition that Jorge has," he added.
Adry Torres, who has covered MLB, NFL, NBA and NCAA basketball games and related events, is a regular contributor to Fox News Latino. He can be reached at elpiloto137@gmail.com or follow him on Twitter: @adrytorresnyc.
Follow us on twitter.com/foxnewslatino
Like us at facebook.com/foxnewslatino