Jordan Matthews wants to catch passes from Sam Bradford next season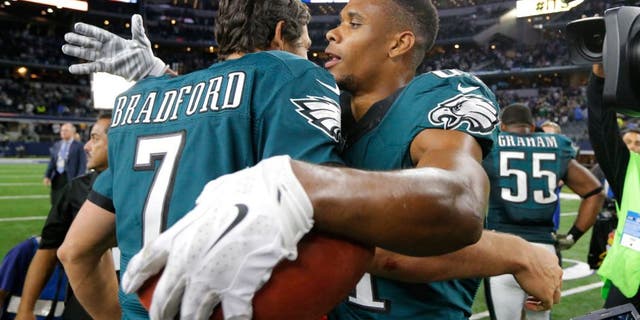 No one is still 100 percent sure if Sam Bradford will re-sign with the Philadelphia Eagles this upcoming offseason.
Bradford, who carried a $17.61 million cap hit this season, has made it clear that he would like to stay in Philadelphia.
His top wide receiver, Jordan Matthews, has also made it clear that he would like Bradford to continue throwing him the ball.
"I want Sam here," Matthews told Aaron Kasinitz of pennlive.com. "I'd love to have him here as my quarterback."
"I love when me and my quarterback have a relationship where we're on the same page," Matthews continued. "It's fun going out there, knowing, 'okay, this guy understands me more, I understand him more. I have to be here at this time, he wants me there at this time.'"
Matthews certainly does have a pretty healthy relationship with his new quarterback. Bradford has completed 71 passes this season to Matthews for 870 yards and five touchdowns in 13 games.