Jon Jones: I beat Daniel Cormier 'in the prime of my partying'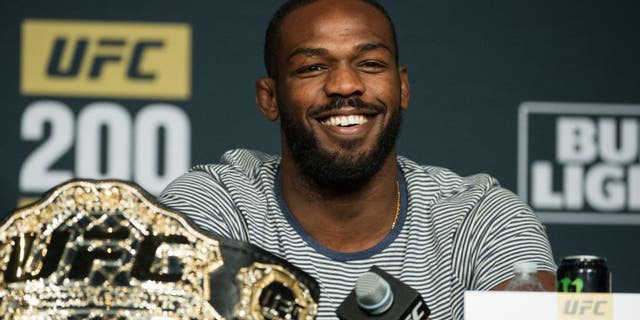 NEWYou can now listen to Fox News articles!
LAS VEGAS -- Jon Jones has been clean and sober for several months, but not too long ago he was living a raucous lifestyle outside the cage.
Jones infamously tested positive for cocaine a month before his last bout with Daniel Cormier in 2015. After a hit-and-run accident last April that could have ended his career, he cleaned up his life and he's been walking the straight and narrow since.
Ahead of UFC 200, Cormier has stated that those days living in debauchery will come back to haunt Jones and he might be a middle-aged 28-year-old thanks to all his days and nights spent partying.
Jones responded to that comment Wednesday during the UFC 200 pre-fight news conference while also reminding Cormier that when they last met he was occupied by an overactive nightlife -- and he still won their fight by unanimous decision.
"DC said that because I used to be such a party animal that I've burned my candle out on both ends and I'm 28 but I'm really 40," Jones said. "I think misery loves company. I think it's apparent right now if you look at me and you look at him, you can tell he's having a hard weight cut. Look at his face, he's all drawn-out looking. He just got over a knee injury, I feel fine. I'm not even sure if his knee's 100 percent. I doubt it. I'll test that on Saturday. I feel great."
How can you convince someone that getting sober and living more healthy will make you older? I beat him in the prime of my partying. So we'll see, who's the 40 year old on Saturday. -- Jon Jones
As much as Jones likes to mock Cormier for his opinions about his life outside the Octagon, the current interim champion does look at Saturday night as a great way to turn the page on his career.
Jones might already be one of the greatest fighters in UFC history, but depending on the outcome of his hit-and-run case last year, his career could have easily come to an immediate halt.
Now, more than a year later from that fateful night in New Mexico, Jones is ready to put the past behind him and re-establish himself as the most fearsome fighter inside the cage as he starts a new chapter after UFC 200.
"Had a long, long year -- a really long year. Court cases and lawsuits and just a whole bunch of stuff," Jones said. "I think a big part of me forgetting about it and moving forward in my life is by redeeming myself completely, doing the right things in the future, getting this belt back is a huge part of that.
"That's what I'm going to do."