John Lineker sick with Dengue fever, out of fight against Cody Garbrandt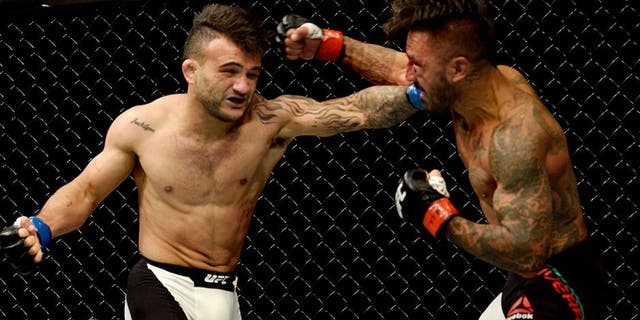 John Lineker has been forced out of his upcoming matchup with Cody Garbrandt at this weekend's UFC Fight Night card in Pittsburgh after contracting Dengue fever.
Lineker revealed the news in an Instagram post on Monday while showing his medical results from Brazil.
"We apologize to Cody," Lineker said as translated by MMAFighting.com. "I know how bad it is to do all the preparation and not be able to fight. It affects all of us, but there are things we can't avoid. Now we have to wait for the fight to be rescheduled."
Dengue fever is a mosquito born tropical disease that can cause fever, vomiting, muscle and joint pain as well as a nasty rash. Lineker mentioned in his post that Dengue fever has been running rampant in his home area of Brazil and despite his best efforts, he was unable to avoid getting sick, which will now force him out of the fight.
The fight with Garbrandt was a featured bout on the card as the UFC returns to Pittsburgh for the first time in five years with a show headlined by Donald "Cowboy" Cerrone taking on Alex "Cowboy" Oliveira.
According to Lineker, the fight with Garbrandt will be rebooked for a later date although the UFC hasn't even officially confirmed his withdraw or if there's a chance the Ohio native could receive a replacement opponent.
Chances are with the card set to take place this Sunday night, Garbrandt will likely get pulled as well with a very short time to potentially secure a replacement opponent.